Programs
CSD Bachelor's Program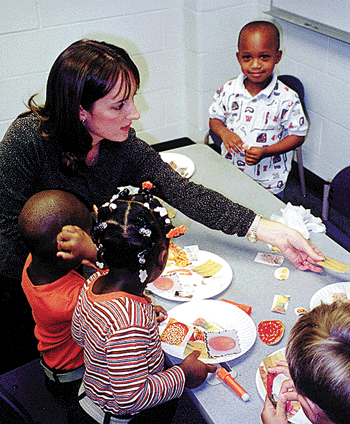 The Department of Communication Sciences and Disorders (CSD) provides a program that leads to a Bachelor of Science in Education degree with a major in Communication Disorders. This program is designed to introduce students to the field of Speech-Language Pathology and to allow them to develop knowledge specific to intervention for individuals with communication disorders. The B.S. E.d. degree is a pre-professional degree. The program goals for the undergraduate program are to provide the undergraduate student an education in normal and disordered aspects of communication and to provide undergraduates with pre-professional training to prepare them to enter graduate programs in communicative disorders. The department of CSD helps students to develop fundamental knowledge, skills, and attitudes required for working with people of all ages having a wide range of speech, language, and hearing problems. The four-year curriculum includes course work, observation, writing assignments, experiences, and normal and disordered aspects of speech, language, and hearing. The first two years of the curriculum emphasize general education while the last two years emphasize specialized course work in CSD, observation, writing assignments, experiences, and elective course work. With appropriate scheduling, students can obtain a minor in a related area.
The undergraduate curriculum has been specifically designed to prepare students for graduate study. This occurs because Speech-Language Pathologists and Audiologists must have a Master's Degree, pass a national test, and complete a Clinical Fellowship experience to be certified by the American Speech-Language-Hearing Association (ASHA) or to obtain a state license to practice speech-language pathology or audiology.  As such, students completing the requirements for a Bachelor of Science degree in Education in Communication Disorders are not eligible for state nor national certification.
CSD Master's Program
The Valdosta State University College of Education, through its Department of Communication Sciences and Disorders, is pleased to offer the Master's of Education Degree in Communication Sciences and Disorders.  This program builds upon knowledge acquired during undergraduate study.   Students further refine skills necessary for developing effective interventions to meet unique client requirements in the graduate program. 
 The Master's degree in Communication Sciences and Disorders is an accredited program in the area of speech-language pathology and is an approved program of the Professional Standards Commission of the state of Georgia.  Students earning the master's degree are eligible for a service certificate (S-5) and the Certificate of Clinical Competence (CCC) awarded by the American Speech-Language-Hearing (ASHA) Association. which allows them to work in the public schools of Georgia, as well as hospitals, clinics, rehabilitation agencies and private practices.  The goals of the graduate program are a) to prepare students to provide prevention, evaluation and intervention services for clients from birth to adult with speech, language, voice resonance, swallowing  or hearing disorders; b) to conduct basic research to explain the mechanisms underlying normal and disordered speech, language, and hearing; c) to conduct applied research that will help speech-language pathologists and  audiologists to remediate communicative disorders; d) to provide graduate students with the education to become certified speech- language pathologists, teachers, and/or research scientists; e) to serve the people of the local and larger communities by providing clinical  services and information through the  Speech-Language- and Hearing  Clinics; f) to be a preeminent resource for the dissemination of information and clinical training strategies to professionals statewide and nationally through presentations at meetings and  publications.
Program Outcomes
Graduates of the VSU Communication Sciences and Disorders Program will demonstrate the ability to plan effective interventions by:
a)      developing setting-appropriate intervention plans;
b)      linking objectives to assessment data
c)      involving the significant other in the therapy plan where appropriate;
d)      choosing materials that are appropriate for the client;
e)      utilizing data and supervisory feedback to make therapy plan modifications;
f)        applying theory and research to demonstrate evidence-based practices
The Communication Sciences and Disorders program provides numerous opportunities for students to apply and practice knowledge and skills obtained in the classroom to individuals with a variety of communication disorders.  Students begin these experiences in the on-campus speech and hearing clinic during their first semester of graduate study under the close supervision of clinical faculty.
Accreditations

The Communication Sciences and Disorders Program is accredited in the area of speech-language pathology by the Council on Academic Accreditation in Audiology and Speech-Language Pathology (CAA). National accreditation ensures that the program meets specified standards in the areas of administrative structure and governance, faculty and instructional staff, curriculum, students, assessment, and program resources. Students graduating from an accredited program are eligible for state and national certification.
The Speech and Hearing Clinic
The Speech and Hearing Clinic is a community clinic providing services to approximately 250 children and adults with speech, language and hearing disorders on a weekly basis.  Additionally, approximately 1000 individuals are screened each year for speech, language and hearing disorders.  There are eight practicum sites within a few minutes drive of the university in which students participate as a part of the on-campus practicum.  These include public and private schools, day care centers, developmental centers, sheltered workshops and early intervention centers.
There are two off-campus experiences that occur during the final two semesters of graduate study.  The first is a full-time placement in a public school where students gain experience with the unique requirements of that setting.  The second is a full-time placement in a hospital, clinic or rehabilitation agency where students participate in the diagnosis and therapy associated with the communication disorders of adults.