ACED'S eNewsletter
ACED Graduate Receives the President's Award for Academic Excellence
At the December 2013 VSU Commencement Ceremony, Mrs. Karen Paulino, a graduate from Adult and Career Education's Office Administration and Technology (OAT) bachelor degree program, was recognized as the outstanding student in the Dewar College of Education and Human Services.  Mrs. Paulino carried the college banner and was presented the President's Award for Academic Excellence in recognition of her perfect 4.0 grade point average.  We extend our congratulations to Karen and are very proud of her success in the OAT program.  Please read her story below.
"A college education is something many people dream about, but when the last time you were a student was over two decades ago, the concept of going back to school can be daunting, and even more so as a fairly new citizen who was not quite familiar with the educational dynamics of a different country.  I have been living in Thomasville for about five years now, but I am originally from the beautiful little jewel of Belize.  As an only child of a single mother, it was extremely difficult to leave her and everything I was used to, but it was a decision I had to make.
In the fall of 2010, with the constant encouragement and unwavering support of my husband, who is also a Valdosta State University alumnus, I finally made the decision to go back to school.  VSU was the obvious choice for me for several reasons.  One, my husband did both his undergrad and graduate studies here and spoke highly of the university and its professors.  Second, I visited the institution a couple of times with him and even though it seemed huge, he informed me that it was one of the smaller universities and one where I would feel comfortable.  Third, it had the most affordable rates in the region, and finally, offered several online degree programs which sealed the deal for me when I realized that I could go to school and keep my job. 
Still, it was not without a great deal of apprehension that I decided to pursue this dream.  I knew the challenges would be many.  Not only was I nervous about the amount of work it would entail and the expenses that would be incurred, but I had a full-time job as a migrant education student services provider and lived 50 miles away from the university campus.  The biggest advantage of taking online courses is the convenience it affords of studying at your own pace, but at the same time, it takes quite a bit of self-discipline, motivation, and organization to be successful. 
I enrolled in the Adult and Career Education Department with a major in Office Administration and Technology.  The program is rigorous, with all the demands and requirements like any other major, but I had a diligent advisor, Dr. Vesta Whisler, who was very instrumental in helping me to be successful.  As a professor, she also has an impeccable record for speedy responses and feedback on papers and assignments submitted.  The professors in the ACED department were always very helpful and ready to respond to any concerns and questions I had.  They were strict, as they should be about deadlines, but they also understood the intricacies of distant learning.  I can recall a few times when I felt like giving up, especially during an unexpected family health crisis which occurred with my mom in 2011.   It was a struggle emotionally and financially, but I persevered.  College is challenging but it is also rewarding and depending on the skills and knowledge acquired, the possibilities thereafter are endless.
Overall, my experiences at VSU were great, hence the reason I want to continue my studies here.  As soon as I can identify some financial assistance or a scholarship, I am ready to pursue a Master Degree in Adult and Career Education at my alma mater."
Karen Paulino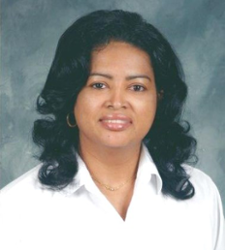 ACED Doctoral Dissertation a National Finalist
Dr. T. Lynn Barber's doctoral dissertation was recently recognized as a Finalist in the national Outstanding Dissertation competition sponsored by the University Council for Workforce and Human Resources Education.  Dr. Barber earned his Doctor of Education Degree in Adult and Career Education in the Summer of 2012.  The title of his dissertation study is "Identification and Analysis of Georgia Exemplary Secondary Agricultural Education Programs".  Dr. Reynaldo Martinez, pictured with Dr. Barber, served as the dissertation advisor along with committee members from ACED Dr. Mary Willis, Dr. Iris Ellis and Dr. Kent Moore from the Langdale College of Business.  We are very proud of Lynn's doctoral research and this recognition is an indicator of the quality of his work.  Congratulations Dr. Barber!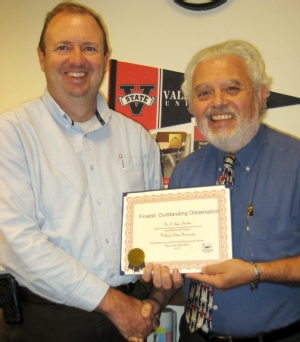 2012-2013 ACED Graduate and Student Assistants of the Year Nominees
The ACED Department chose two recipients, Jeanevra Pearson (Graduate Assistant) and Devin Burton (Student Assistant), to be nominated for 2012 - 2013 Graduate Assistant and Student Assistant of the Year. On April 11, 2013 at 12pm in the VSU's University Center ballroom, a luncheon was held in honor and appreciation of all of the nominees.
Pictured from Left to Right: Dr. Reynaldo Martinez, Devin Burton, Jeanevra Pearson, and Mrs. Wendy Miller.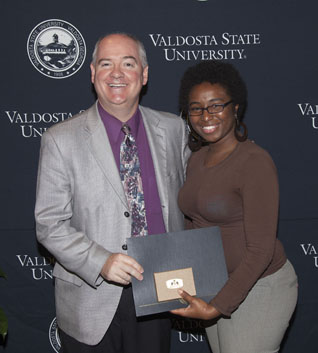 Graduate Assistant of the Year Nominee
My name is Jeanevra Lanise Pearson, and I'm a full-time master's level student in the Marriage and Family Therapy program who is scheduled to graduate on July 27, 2013. Before applying, I had never heard of Valdosta State University, but the beautiful campus and outstanding MFT faculty and program could no longer maintain its secret and keep me away. From the moment of visiting VSU, I knew that this was exactly where I wanted to be and could grow.
I'm currently a graduate assistant in the Department of Adult and Career Education which is located in the Dewar's College of Education Building on VSU's campus. My departmental duties are as follows: I assist an department head, 10 instructors, and a departmental secretary with all duties assigned, in charge of Web Design and updates to our department's website through the Cascade server, teaching assistant to an adjunct professor, makes revisions of any departmental promotional display boards and brochures, inputs any Live Text Assessment Data, provides research assistant for my instructors, and assist with any prepartations or arrangements of the annual Adult and Career Education Gulf South Professional Development Education Conferences that are held here at VSU.
My graduate assistant experience has been amazing, because I was able to work for the best department on campus! My department faculty has just welcomed me with open arms into the ACED family. Just like any family, we have had some stressful moments, but far more laughter and good times than I could have ever expected. Graduate assistantships are valuable because I was introduced to new tasks such as assistant teaching a course, web design, and new programs that otherwise were foreign to me before working for the ACED department. I was challenged but most importantly I learned, therefore, the limits of my abilities are now truly endless.
As for my future plans, I have applied and recently had an interview for a doctoral program in Counseling Education with a Specialization in Marriage and Family Counseling/Therapy at Barry University located in Miami, Florida to continue my education and training in the world of therapy. If accepted into the program, I will be the first person ever in my family to potentially recieve a doctoral degree. My ultimate goals are to start a non-profit organization for girls ages 10 to 18 who are adopted to teach them the value of self-esteem, professional development, and provide therapy for them in their journey called life. I also want to open, brand, and market my own private practice within the next 10 years. While a graduate assistant, I work and intern for Pathway to Hope Counseling Services, a home-based therapy company, here in Valdosta as a supervised student therapist 40 to 55 hours each week.
I am honored to have been nominated for this award by my supervisors and faculty and thus forever grateful for the love and support they have shown and continue to show me.
  Student Assistant of the Year Nominee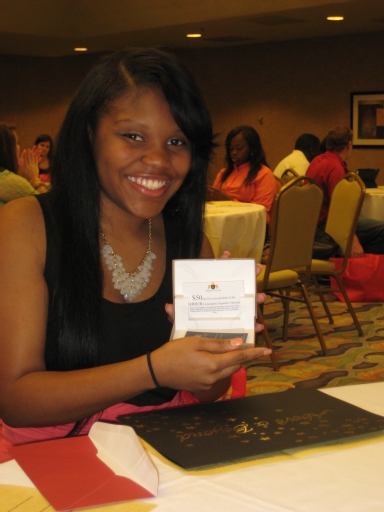 My name is Devin Cherise Burton. I am a pre-nursing major here at VSU. I work in the Adult Career and Education department as a lab assistant. My major responsibilities are supervising the computer labs in the Education building and lending a helping hand where ever needed in the Education building. I expect to graduate May 2015. What brought me to VSU was the beautiful campus and the enviorment. It was what attracted me the most to the school and made me want to become a Blazer. My interests are reading and writing poetry, listening to music, and spending countless hours on twitter and instagram. My future plans after I get my degree are to travel as a nurse to various countries that need medical assistance. Some things I would like for people to know about me are that I love to meet people, I have an unbreakable faith in God, my mother is my inspiration and my little sisters are my motivation.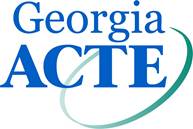 Dr. Charles Backes Honored as the GACTE 2012
Georgia Outstanding Career and Technical Educator
Dr. Charles Backes was selected as the 2012 Georgia Outstanding Career and Technical Educator by the Georgia Association for Career & Technical Education (GACTE) during their annual conference, which met July 15-18, 2012 at the Cobb Galleria Centre in Atlanta, Georgia. Dr. Backes was nominated by the Trade and Industrial Educators of Georgia (TIEGA) as its affiliate award winner.
Dr. Backes is a professor of Adult and Career Education in the Dewar College of Education at Valdosta State University. His primary areas of specialization include technical teacher preparation and workforce education. He also serves as the Director of Professional Education for the National Joint Apprenticeship Training Committee (NJATC) and serves as an honorary command chief with the 93rd Air Ground Operations Wing (AGOW) at Moody Air Force Base. As a technical educator for more than 30 years, he has prepared hundreds of individuals as they enter or advance through the technical work force. He has a Ph.D. in Vocational Education from Louisiana State University. He is married to Lora Backes, who is also on the faculty at Valdosta State University.
Dr. Backes will advance to compete for regional and national honors over the course of the upcoming year.
******* Information about GACTE ********
The Georgia Association for Career & Technology Education (GACTE) is the second largest state affiliate of the national organization, Association for Career & Technical Education (ACTE). Georgia's 2,700 members represent high school, technical college, and university faculty and administrators who are associated with career, technical, and agricultural education.
What is the Association for Career and Technical Education?
Founded in 1926, the Association for Career and Technical Education (ACTE) is the largest national education association dedicated to the advancement of education that prepares youth and adults for successful careers.

What is ACTE's Core Purpose?
To provide leadership in developing an educated, prepared, adaptable and competitive workforce.
Who does ACTE represent?
The strength of ACTE is reflected in its diverse membership composed ofmore than 27,000 career and technical educators, administrators, researchers, guidance counselors and others involved in planning and conducting career and technical education programs at the secondary, post-secondary and adult levels.

What does ACTE do?
ACTE is committed to enhancing the job performance and satisfaction of its members; to increasing public awareness and appreciation for career and technical programs; and to assuring growth in local, state and federal funding for these programs by communicating and working with legislators and government leaders.
 Got News? Faculty and Staff
Articles
In March of 2013, Dr. Marcella Prater created an article entitled, "Tips and Tools for Teaching Personal Financing" which was also published in a journal under The Association for Career and Technical Education. Below is Dr. Prater's abstract:
Once an integral part of the curriculum in many school systems, little emphasis has been placed on teaching personal finance in recent years.  As a result of the recession and the collapse of the housing market, educators have realized that we need to refocus our efforts on teaching personal finance.  However, with the emergence of technology and the Internet, the way we need to teach personal finance has changed.  In today's society, students demand to be entertained and actively engaged.  This article discusses how the lack of personal finance education influenced the recent recession, and what we can do to educate our students and consumers in personal finance using today's technology. Links which lead instructors to the standards in personal finance education are included. A list of a few YouTube videos of music, commercials, comedy, and real-life success stories which add interest to a class are listed.  Several free or low-cost simulations which use technology are mentioned in the article, as simulations are always a good way to keep students engaged.  In conclusion, the topics in personal finance are many, and the resources are endless.  This article covers a few of those resources.