President's Update
March 20, 2017
Greetings, Colleagues!
Welcome to the second installment of an ongoing series of President's Updates. Those who read the first one know that I plan to send these somewhat regularly during the fall and spring semesters as a way to keep you informed about our work in the Office of the President. I invite you to read them as you are able, and never hesitate to respond with questions, comments, or suggestions.
HealthTrails Challenge Kickoff
I want to start this update off with something fun! The University System is getting ready to once again launch a system-wide competition called the HealthTrails Challenge. Employees at each participating USG school compete as a team and get credit for making healthy lifestyle decisions and for exercising. I have personally signed up for this 6-week challenge that begins today, and I am challenging all of you to join me. 
You'll get free stuff for participating, and if VSU wins, Chancellor Wrigley will present us with a traveling trophy at a special event. Simply put, I want to win this competition! I'm, therefore, asking all of you to consider signing up and use this as an incentive to get a little more fit before summer. I look forward to celebrating with you when we bring home the trophy.
Register at https://usgwellbeing.healthtrails.com, or to get more information, visit the VSU Health Trails website.
Legislative Update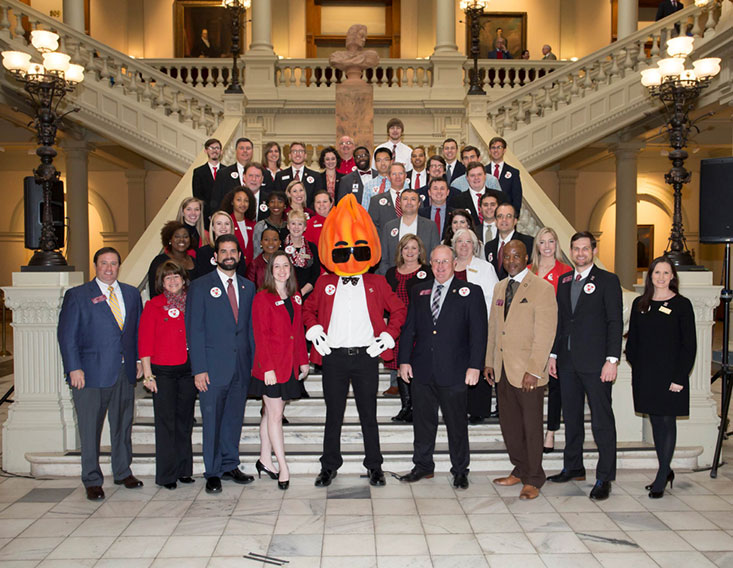 With just two weeks left in the scheduled Georgia state legislative session, this is definitely a busy time in Atlanta. I joined VSU faculty, staff and students there last Monday for Valdosta State University Day @ the Capitol, and I want to thank all those who played a role in making that day such a success. We told our story of making an impact for south Georgia and beyond to our legislative leaders, and we received many positive comments. This day followed months of work educating lawmakers about our needs, and I am pleased that our collective effort is paying dividends.
The preliminary capital budget includes full funding for the renovation of Barrow Hall to support our Air Force ROTC program, and we are also receiving strong support for the University System's requested increase to support enrollment growth. We continue to hear broad backing for Governor Deal's proposed merit salary adjustment for System employees. Finally, while no bills have yet passed both chambers of the General Assembly, we are tracking several proposed bills that would impact our University System. We continue to monitor these items and educate our legislators regarding our stance on each. 
Two Big Goals…
If you've heard me speak, you've probably heard me say that I am focusing on two major goals for my first 6-8 months as VSU's president. One of those is to co-create a common vision for where we should be headed as a university, and I hope to have more information about that endeavor next month. The other is to solidify the leadership of the institution. A major piece of that task is to identify a permanent Provost, and that search is now well underway. The job has been posted (this is a link to the job posting), and Parker Executive Search – a respected firm that assists universities with similar searches all across the country – is partnering with the members of our campus search committee to attract qualified candidates. Review of applications will begin April 1, with the goal of bringing finalists for campus interviews in late spring.
Many of you have also heard me talk about the lack of identified leadership in crucial areas. My past experience has taught me that every institution has something that can be improved. Yet, too often, those areas that most need improving are led on a daily basis by a task force, a committee, or a collection of people rather than a singular experienced leader who is responsible for fostering the changes that are needed in that area. Here, many of you have told me that strategic enrollment management (particularly retention and the strategic management of our academic schedule) is an area of significant weakness, and yet we lack a senior leader for this important area. As a result, I was pleased when the Senior Leadership Team voted unanimously to recommend the hiring of a new senior administrator in strategic enrollment management as part of our 2017-18 budget. Similar changes in leadership and/or reorganizations to better equip us to tackle the challenges we face also continue to be considered.
Relay for Life
Those of you who know my cancer story will not be surprised to learn that I am a big supporter of Relay for Life. In fact, I've been participating in local Relays ever since my father – also a cancer survivor – was first diagnosed with prostate cancer nearly two decades ago. I was, therefore, thrilled to learn that we host our own Relay for Life here at VSU, and I am equally happy to announce that VSU will once again support that event by offering "Dress in Support of Relay" days. Simply put, you can wear jeans or similar comfortable clothing on the following designated days by contributing $5 or more at the registration page for each day that you would like to "Dress in Support of Relay". 
Wednesday, March 22

Wednesday, March 29

Wednesday, April 5

Wednesday, April 12

Wednesday, April 19
All proceeds go to the American Cancer Society and support our event scheduled for Friday, April 21, 7 p.m. – 2 a.m. Please contact Haley Chaney if you would like "I dressed in support of Relay" stickers for your office/department. This is just one way that those of us working on campus can support VSU students, organizations and departments working hard to win the fight against cancer!
Pizza with the President
By now, many of you have heard that I've started yet another tool to hopefully enhance campus communication. Each month throughout the fall and spring semester, our staff will distribute invitations to a random group of faculty or staff to join me for very informal Pizza with the President lunches. There, we will get to know one another better, I'll share updates regarding the major activities my office is working on, and I'll invite questions and suggestions for how we can do what we do better. Feedback from the first sessions was very positive, and I look forward to getting to know many more of you during these gatherings.
In closing, thank you for everything you are doing this spring to promote student success, and thanks also for never missing an opportunity to tell the positive story of our university to any who will listen. Go Blazers!
229.333.7400
Campus Address
1500 N. Patterson St. Valdosta, Georgia 31698
Mailing Address
1500 N. Patterson St.
Valdosta, GA 31698