Contact

  229-245-4357


  229-245-4349

Campus Address
Odum Library 2nd Floor (Next to Circulation Desk)
1500 N. Patterson St.
Valdosta, GA 31698
Mailing Address
1500 N. Patterson St.
Valdosta, GA 31698
Contact

  229-245-4357


  229-245-4349

Campus Address
Odum Library 2nd Floor (Next to Circulation Desk)
1500 N. Patterson St.
Valdosta, GA 31698
Mailing Address
1500 N. Patterson St.
Valdosta, GA 31698
Other Devices
Step 1:
Connect to the network VSU-Start Here. Steps to do so will vary based on your device.
Step 2:
Open you web browser and when you are taken to the VSU Wireless page click the VSUWireless button.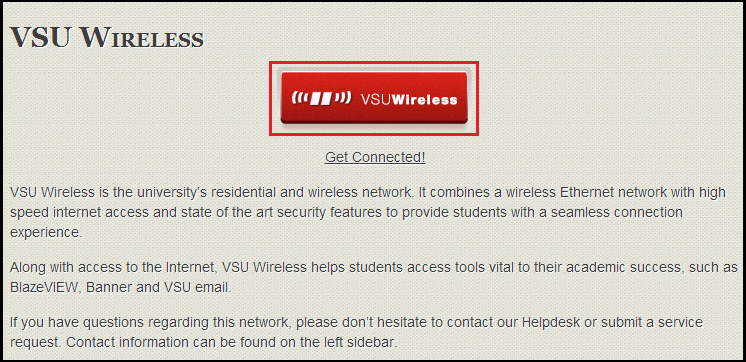 Step 3:
Click the load SmartPass Connect manually link.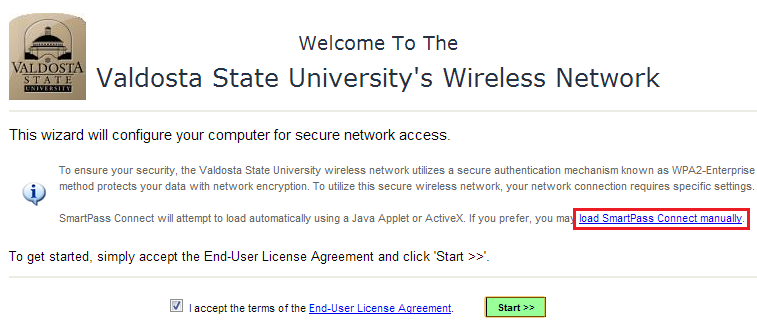 Step 4:
Click the gray heading that best matches type the device you are attempting to connect. Then, follow the instructions listed in the window that appears.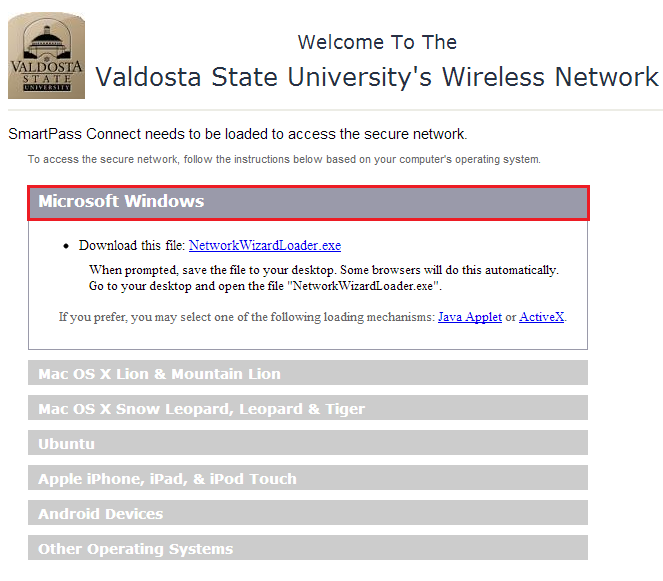 Congratulations!
You have successfully configured your device to connect to VSU Wireless! If you need assistance with this process, please contact the IT Helpdesk at (229) 245-4357 or email us at helpdesk@valdosta.edu.
Please note that our help request system can only accept emails sent from a VSU email address.
Contact

  229-245-4357


  229-245-4349

Campus Address
Odum Library 2nd Floor (Next to Circulation Desk)
1500 N. Patterson St.
Valdosta, GA 31698
Mailing Address
1500 N. Patterson St.
Valdosta, GA 31698