Android Configuration
Step 1:
Open the Notifications Tray and touch the Settings button.  This looks like a gear.
Step 2:
Select Wi-Fi from the menu.
Step 3:
Make sure Wi-Fi is turned on, then select VSU-StartHere.
Step 4:
Open the web browser of your choice.  Google Chrome is shown here.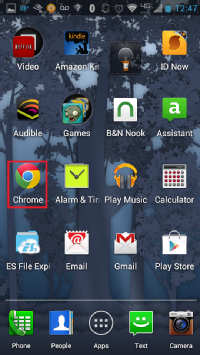 Step 5:
When you are taken to the VSU Wireless page click the VSUWireless button.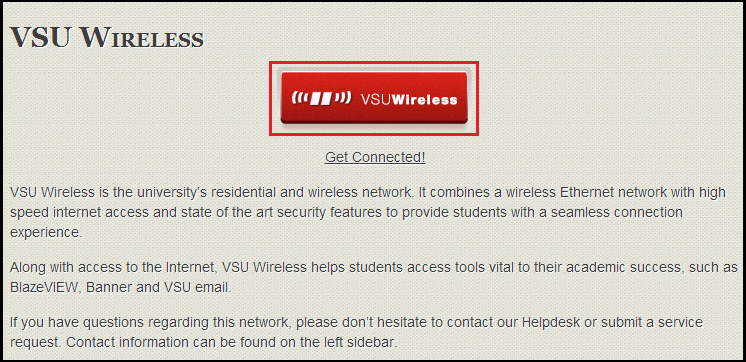 Step 6:
When you navigate to any non-VSU web page your phone should redirect to the Smartpass page.  Check the box to accept the terms, and then click the Start button.
Step 7:
Download the Smartpass App from the Google Play market.  Then click the Setup Wifi button.
Step 8:
Select VSU-Personal as your network.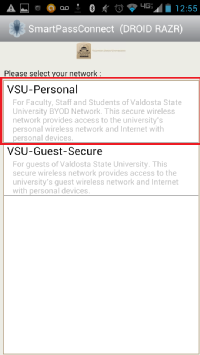 Step 9:
Enter your VSU Active Directory username and password into the appropriate fields, then click the Continue button.
Step 10:
You should now see a screen that says "Attempting to connect to the wireless network."  Once this finishes it will take to to a new page and you will be connected.  This may take a few minutes the first time.
Congratulations!
You have successfully configured your Android device to connect to VSU Wireless! The system should automatically move you from the VSU-StartHere network to the VSU-Personal network. If you need assistance with this process, please contact the IT Helpdesk at (229) 245-4357 or email us at helpdesk@valdosta.edu.
Please note that our help request system can only accept emails sent from a VSU email address.