Logging Into Remote Desktop for Mac Computers
Installing RDC
Step 1:
Go to http://www.microsoft.com/mac/downloads.
Step 2:
Click Remote Desktop, followed by Microsoft Remote Desktop Connection Client for Mac 2.1.1, and then click Download Now.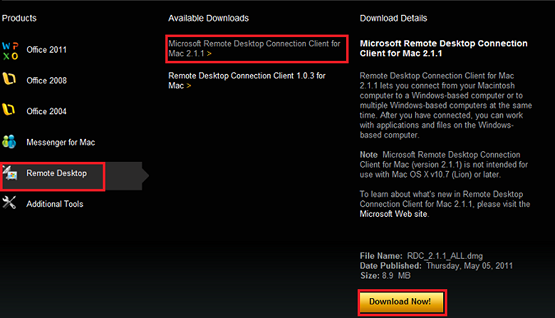 Step 3:
On the new page that opens click Download.

Step 4:
Once you have downloaded the file, double-click RDC_2.1.1_ALL.dmg, and then double-click RDC Installer in the new window, and follow the prompts
Using RDC
Step 1:
Click on Terminal in the dock.

Step 2:
Type ssh -L 3388:xxx.xxx.xxx.xxx:3389 yyyy@rdc2.valdosta.edu.
Replace the x's with the IP address of your computer.
Replace the y's with your FTP username.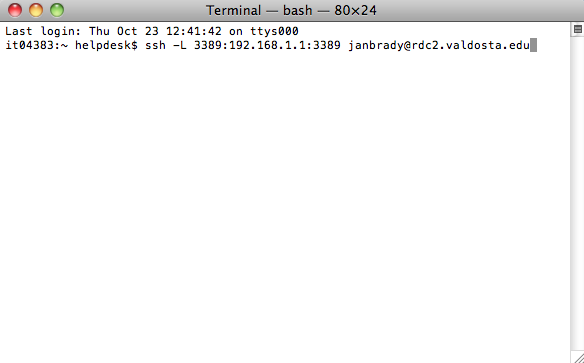 Step 3:
Type yes when prompted.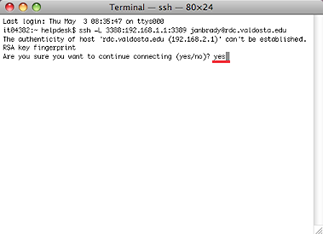 Step 4:
Enter your FTP password when the prompt appears. After you have done so, DO NOT CLOSE THE TERMINAL WINDOW!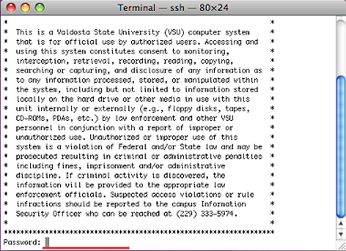 Step 5:
Click on Remote Desktop Connection in the dock.
Step 6:
In the Computer field, type localhost:3388.
Step 7:
Enter VSU\ followed by your computer login username in the User name field.
Enter your Computer login password in the Password field.
Now click the OK button, A window should appear displaying your office computer desktop.
Congratulations!
You have now installed and made a connection to your office computer using Remote Desktop Connection for Mac.
If you have problems when trying these instructions please contact the Information Technology Helpdesk at 229-245-4357 or send an e-mail tohelpdesk@valdosta.edu.  Please note that our work request system can only accept emails sent from a VSU email address.