Contact

  229-245-4357


  229-245-4349

Campus Address
Odum Library 2nd Floor (Next to Circulation Desk)
1500 N. Patterson St.
Valdosta, GA 31698
Mailing Address
1500 N. Patterson St.
Valdosta, GA 31698
Contact

  229-245-4357


  229-245-4349

Campus Address
Odum Library 2nd Floor (Next to Circulation Desk)
1500 N. Patterson St.
Valdosta, GA 31698
Mailing Address
1500 N. Patterson St.
Valdosta, GA 31698
Removing Profiles
Symptoms:
When attempting to set up an account on Outlook, the following message is received: "You have a previous version of the Microsoft Exchange Messaging Service. Create a new profile."
Cause:
A previous Microsoft Exchange profile is still active.
Step 1:
Make sure that Outlook is closed.
Step 2:
Click the Start button. Then, click Control Panel.
Step 3:
Click Mail.
Step 4:
A menu will pop up. Click Show Profiles...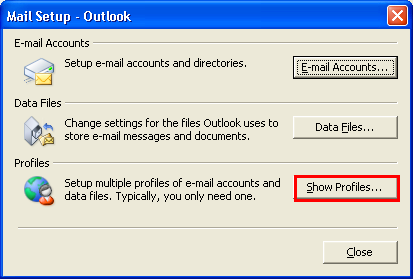 Step 5:
Click on the profile you wish to remove. Then click Remove.
Step 6:
At the next pop up, click Yes.
Congratulations! You have successfully removed a profile in Outlook. If this does not correct the issue, please contact the VSU IT Helpdesk athelpdesk@valdosta.edu or at 229-245-4357.
Please note that our work request system can only accept emails sent from a VSU email address.
Contact

  229-245-4357


  229-245-4349

Campus Address
Odum Library 2nd Floor (Next to Circulation Desk)
1500 N. Patterson St.
Valdosta, GA 31698
Mailing Address
1500 N. Patterson St.
Valdosta, GA 31698