Contact

  229-245-4357


  229-245-4349

Campus Address
Odum Library 2nd Floor (Next to Circulation Desk)
1500 N. Patterson St.
Valdosta, GA 31698
Mailing Address
1500 N. Patterson St.
Valdosta, GA 31698
Contact

  229-245-4357


  229-245-4349

Campus Address
Odum Library 2nd Floor (Next to Circulation Desk)
1500 N. Patterson St.
Valdosta, GA 31698
Mailing Address
1500 N. Patterson St.
Valdosta, GA 31698
Removing Add-ins in Outlook 2010
Step 1:
Open Microsoft Outlook 2010.
Step 2:
Select File to access backstage view.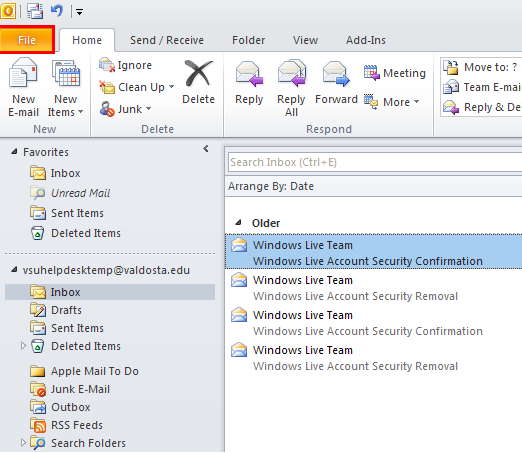 Step 3:
Next, select Options.
Step 4:
Select Add-ins in the left pane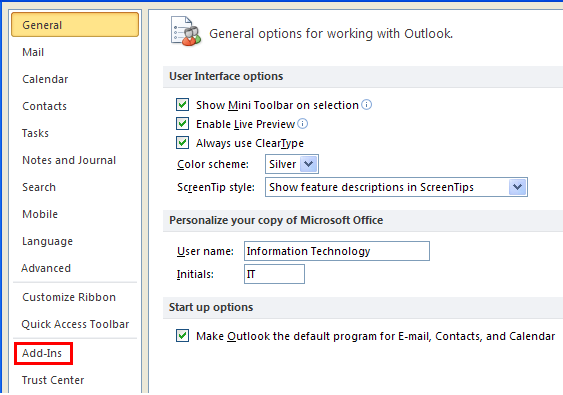 Step 5:
Select the type of add-in type you wish to remove from the drop-down menu, then click Go to see the add-ins associated with that type.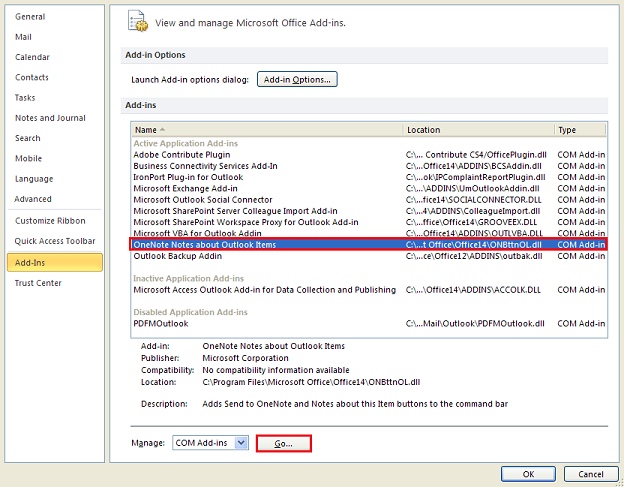 Step 6:
Deselect the check box next to each add-in you want to remove. Then select OK.

Congratulations!
Congratulations! You have successfully removed add-ins in Microsoft Outlook 2010. If you encounter any issues while following these steps, feel free to e-mail us at the Helpdesk or call us at (229) 245-4357.
Please note that our work request system can only accept emails sent from a VSU email address.
Contact

  229-245-4357


  229-245-4349

Campus Address
Odum Library 2nd Floor (Next to Circulation Desk)
1500 N. Patterson St.
Valdosta, GA 31698
Mailing Address
1500 N. Patterson St.
Valdosta, GA 31698