Contact

  229-245-4357


  229-245-4349

Campus Address
Odum Library 2nd Floor (Next to Circulation Desk)
1500 N. Patterson St.
Valdosta, GA 31698
Mailing Address
1500 N. Patterson St.
Valdosta, GA 31698
Contact

  229-245-4357


  229-245-4349

Campus Address
Odum Library 2nd Floor (Next to Circulation Desk)
1500 N. Patterson St.
Valdosta, GA 31698
Mailing Address
1500 N. Patterson St.
Valdosta, GA 31698
First Time Users Guide
Step 1:
On the main Valdosta State University web page, click the MyVSU link on the top right corner. Then, click the VSU Email link in the bottom right corner.
Step 2:
Enter your campus computer login (Active Directory) username and password. Then, click the Sign In button.
Note: If you do not know your Active Directory username and password, you can click the link titled Self-Service Password Reset Tool at the bottom of the email login page to retrieve this information. A form will appear and once you complete and submit it, your username will be displayed and you will be able to set your password.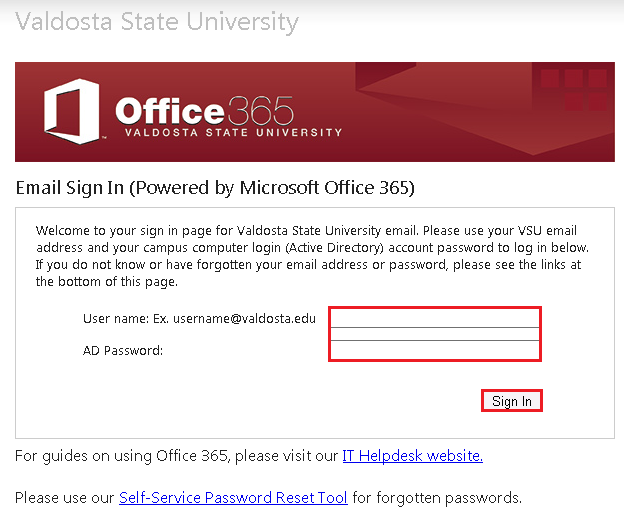 Congratulations! You have successfully logged into your VSU email account. If you encounter issues while attempting these steps, please contact the IT Helpdesk at 229-245-4357.
Contact

  229-245-4357


  229-245-4349

Campus Address
Odum Library 2nd Floor (Next to Circulation Desk)
1500 N. Patterson St.
Valdosta, GA 31698
Mailing Address
1500 N. Patterson St.
Valdosta, GA 31698