Filtering Mail for Mac Mail
Step 1:
Open Mail.

Step 2:
Click the Mail menu. Then, click Preferences.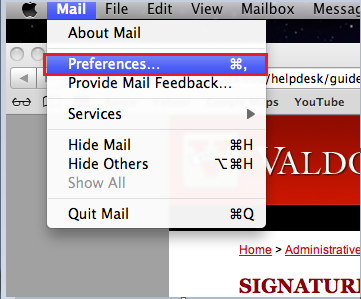 Step 3:
Click on the Rules tab. Then click the Add Rule button.
Step 4:
In the Description box, type the name you wish to assign to the filter.
Click the drop-down menu directly underneath the description, you can select to have "any" or "all" of the conditions be requirements for Mail to perform the action(s) you specify for this rule. Selecting " any" means that even if other conditions are not met, Mail will still perform the action; selecting " all" means that if the conditions are not all met, Mail will not perform the action.
In the blank provided, type the keywords you would like the filter to look for: Ex: "helpdesk@valdosta.edu".
Step 5:
Click the drop-down menu under Perform the following actions:. Then, select the action you wish to have Mail perform on each message it identifies using the criteria you selected above. Then, click the drop-down menu and select the Folder to which you would like the mail to be filtered.
Step 6:
Click the OK button.
Step 7:
After clicking OK, you will be brought back to the Rules tab. Click the red X button at the top-left corner of the window to exit the Preferences menu.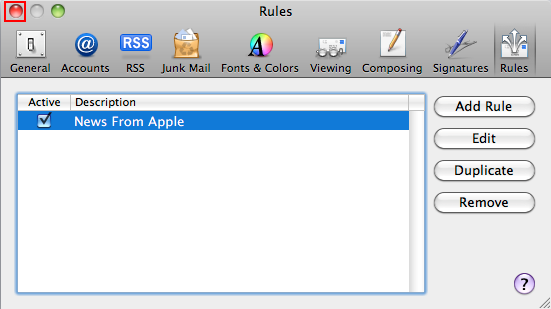 Congratulations!
You have successfully added a filter to Mac Mail!
If you have problems when trying these instructions, or if you have other question concerning your VSU e-mail account, please contact the Information Technology Helpdesk at 229-245-4357 or send an e-mail to helpdesk@valdosta.edu.
Please note that our work request system can only accept emails sent from a VSU email address.