Contact

  229-245-4357


  229-245-4349

Campus Address
Odum Library 2nd Floor (Next to Circulation Desk)
1500 N. Patterson St.
Valdosta, GA 31698
Mailing Address
1500 N. Patterson St.
Valdosta, GA 31698
Contact

  229-245-4357


  229-245-4349

Campus Address
Odum Library 2nd Floor (Next to Circulation Desk)
1500 N. Patterson St.
Valdosta, GA 31698
Mailing Address
1500 N. Patterson St.
Valdosta, GA 31698
Creating Tasks
Step 1:
Click on TASKS in order to access the task viewer.

Step 2:
The following steps explain how to add details to the task and to finish creating the task.
Click on the new task button
Fill out the Subject:, Due:, and the message fields
Click on the SAVE button
Step 3:
To add more details to the task: select the show more details button and edit the fields located below.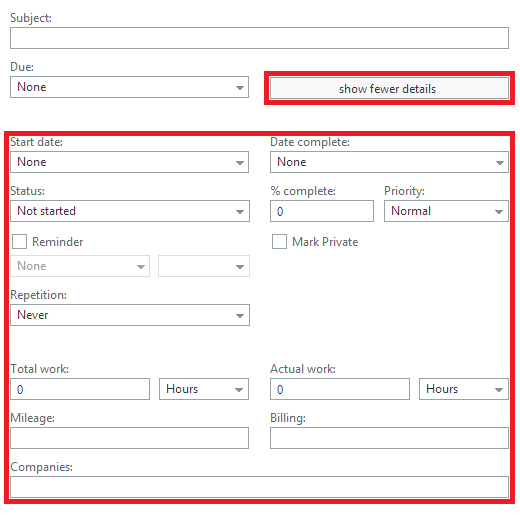 Congratulations!
You have now completed the guide on creating tasks in your VSU Web Outlook account. If you encounter issues while attempting these steps, please send an email from your VSU email account to helpdesk@valdosta.edu or contact the IT Helpdesk by phone at 229-245-4357
Contact

  229-245-4357


  229-245-4349

Campus Address
Odum Library 2nd Floor (Next to Circulation Desk)
1500 N. Patterson St.
Valdosta, GA 31698
Mailing Address
1500 N. Patterson St.
Valdosta, GA 31698