Checking and Sending Email
Step 1:
After you log into your VSU email account, a list of the emails you have received will appear in the center column. Clicking on an individual email will cause the full text of the email to appear in the right column.
While viewing an email, you have several options available:
Reply: Sends an email back to the person who originally sent you the email.
Reply All: Sends an email to the person who originally sent you the email as well as anyone else who was listed on the original email.
Forward: Sends a copy of the email to someone else.
Alternatively, you can click the New Mail button on the top-left corner to start a new unrelated email.
Step 2:
After selecting one of these options, you are ready to begin editing the email you wish to send. If you have files you would like to send, click the Insert button. Then, select Attachment in the drop-down menu that appears. If you do not, please skip to step 4.
Step 3:
Navigate to and click on the file you wish to attach. Then, click the
Open
button.

Step 4:
Click the label in front of the
To
field to search for recipients. Alternatively, you can type their email address into the
To
field and skip to
step 6
.

Step 5:
Type the name of the recipient into the search field and then press the Enter key on your keyboard.
Next, click the plus (+) button to the right of the entry you wish to add. You can repeat this process to add multiple recipients.
When you have finished adding recipients, click the OK button.

Step 6:
Type the text of the email in the space below the formatting tools. When you are done, click the
Send
button.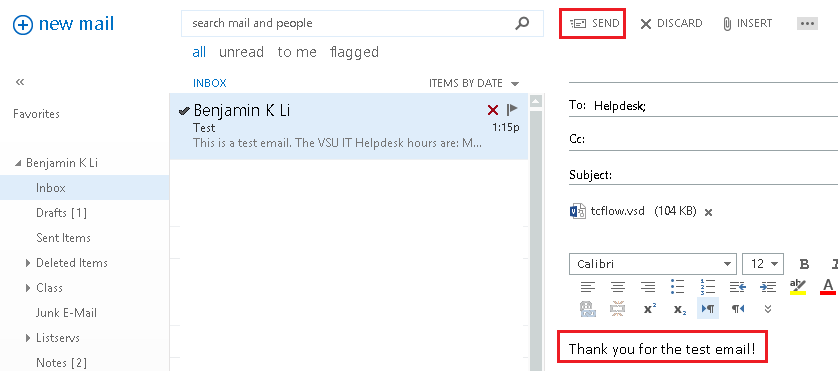 Congratulations! You have successfully sent an email. If you encounter issues while attempting these steps, please contact the IT Helpdesk at 229-245-4357.