Contact

  229-245-4357


  229-245-4349

Campus Address
Odum Library 2nd Floor (Next to Circulation Desk)
1500 N. Patterson St.
Valdosta, GA 31698
Mailing Address
1500 N. Patterson St.
Valdosta, GA 31698
Contact

  229-245-4357


  229-245-4349

Campus Address
Odum Library 2nd Floor (Next to Circulation Desk)
1500 N. Patterson St.
Valdosta, GA 31698
Mailing Address
1500 N. Patterson St.
Valdosta, GA 31698
Turning on Auto-Archiving of Emails within Outlook 2010
Step 1:
Open Microsoft Outlook 2010.
Step 2:
In Outlook 2010 Auto Archive is not enabled by default. To turn it on, click on the File tab to access Backstage View.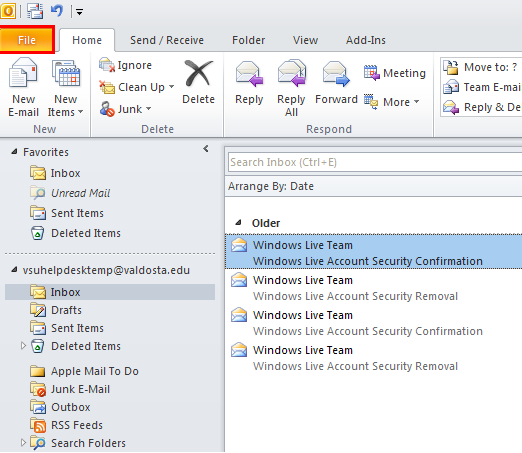 Step 3:
Next, select Options.
Step 4:
Click on Advanced then the AutoArchive Settings button.
Step 5:
The AutoArchive window opens and you'll notice all of the items are grayed out. Check the box next to Run AutoArchive every. You can then change how often it archives and also how often it cleans out e-mails.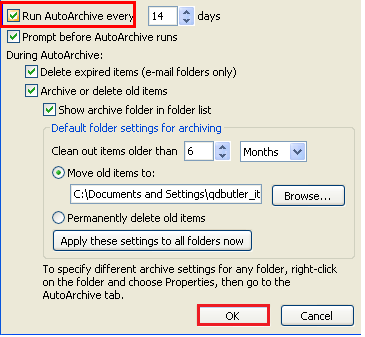 Congratulations!
Congratulations! You have successfully turned on auto archiving of e-mails in Microsoft Outlook 2010. If you encounter any issues while following these steps, feel free to e-mail us at the Helpdesk or call us at (229) 245-4357.
Please note that our work request system can only accept emails sent from a VSU email address.
Contact

  229-245-4357


  229-245-4349

Campus Address
Odum Library 2nd Floor (Next to Circulation Desk)
1500 N. Patterson St.
Valdosta, GA 31698
Mailing Address
1500 N. Patterson St.
Valdosta, GA 31698