Contact

  229-245-4357


  229-245-4349

Campus Address
Odum Library 2nd Floor (Next to Circulation Desk)
1500 N. Patterson St.
Valdosta, GA 31698
Mailing Address
1500 N. Patterson St.
Valdosta, GA 31698
Contact

  229-245-4357


  229-245-4349

Campus Address
Odum Library 2nd Floor (Next to Circulation Desk)
1500 N. Patterson St.
Valdosta, GA 31698
Mailing Address
1500 N. Patterson St.
Valdosta, GA 31698
Installing the Campus Printing Solution for Windows
Step 1:
Make sure you have downloaded the desired print driver from our Software page and unzip the installation file for the Campus Xerox Printers.
Step 2:
Next double-click to run the file for the desired printer (either black and white, or color).
You may need to choose to allow the file to run from some User Access Control window.
Step 3:
You will now need to click on the Install button on the installer window.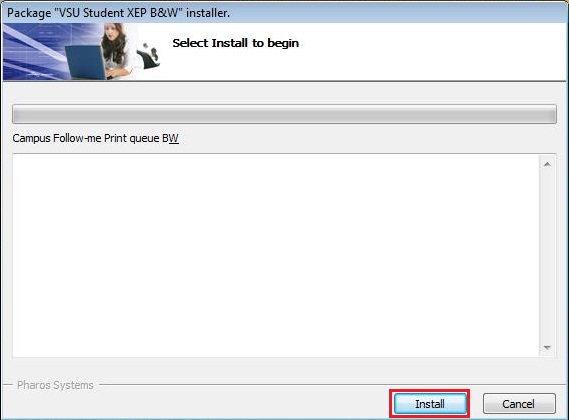 Step 4:
Finally click on the Finish button to complete the installation.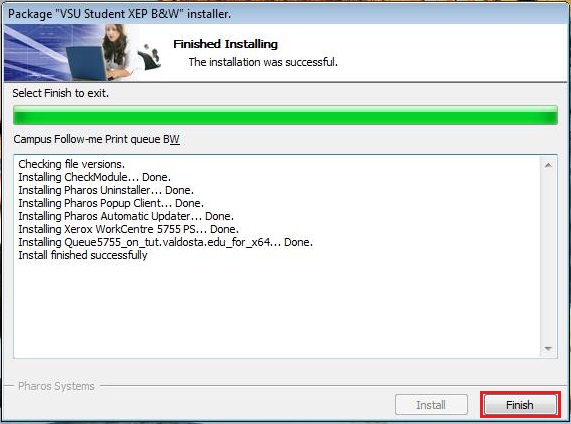 Congratulations!
You have successfully connected your personal Windows computer to the campus printers. If you have any questions, call or email the IT Helpdesk at 229-245-4357 or helpdesk@valdosta.edu. Please note that our work request system can only accept emails sent from a VSU email address.
Contact

  229-245-4357


  229-245-4349

Campus Address
Odum Library 2nd Floor (Next to Circulation Desk)
1500 N. Patterson St.
Valdosta, GA 31698
Mailing Address
1500 N. Patterson St.
Valdosta, GA 31698