Contact

  229-245-4357


  229-245-4349

Campus Address
Odum Library 2nd Floor (Next to Circulation Desk)
1500 N. Patterson St.
Valdosta, GA 31698
Mailing Address
1500 N. Patterson St.
Valdosta, GA 31698
Contact

  229-245-4357


  229-245-4349

Campus Address
Odum Library 2nd Floor (Next to Circulation Desk)
1500 N. Patterson St.
Valdosta, GA 31698
Mailing Address
1500 N. Patterson St.
Valdosta, GA 31698
Enabling JavaScript in Internet Explorer
Step 1:
Click the Tools menu. Then, click Internet Options.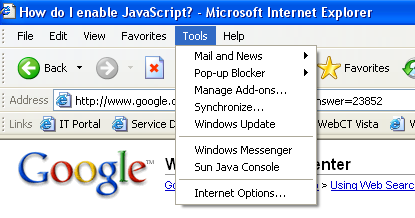 Step 2:
Click the Security tab. Then, click the Custom Level button.
Step 3:
In the Security Settings window, locate the heading for Scripting. Under Active Scripting, select the radio button in front of Enable. Then, click the OKbutton.
Congratulations!
You have successfully enabled JavaScript in Internet Explorer!
If you have problems when trying these instructions, or if you have other questions, please contact the Information Technology Helpdesk at 229-245-4357 or send an e-mail to helpdesk@valdosta.edu. Please note that our work request system can only accept emails sent from a VSU email address.
Contact

  229-245-4357


  229-245-4349

Campus Address
Odum Library 2nd Floor (Next to Circulation Desk)
1500 N. Patterson St.
Valdosta, GA 31698
Mailing Address
1500 N. Patterson St.
Valdosta, GA 31698