Contact

  229-245-4357


  229-245-4349

Campus Address
Odum Library 2nd Floor (Next to Circulation Desk)
1500 N. Patterson St.
Valdosta, GA 31698
Mailing Address
1500 N. Patterson St.
Valdosta, GA 31698
Contact

  229-245-4357


  229-245-4349

Campus Address
Odum Library 2nd Floor (Next to Circulation Desk)
1500 N. Patterson St.
Valdosta, GA 31698
Mailing Address
1500 N. Patterson St.
Valdosta, GA 31698
Enabling JavaScript in Google Chrome
Step 1:
Find the Google Chrome icon on the Desktop and double-click on it.
Step 2:
After Google Chrome opens, click on the Customize and Control Google Chrome wrench.
Next, click on Settings in the drop down menu.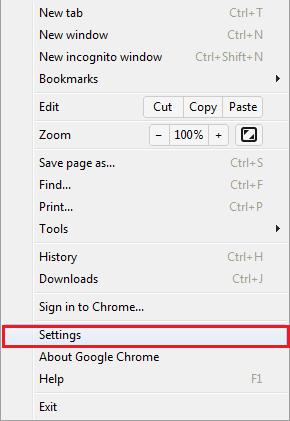 Step 3:
Next, select Show advanced settings...

Step 4:
Then click on the Content Settings.... button located in the Privacy section of the next window.
Step 5:
Make sure that Allow all sites to run JavaScript (recommended) is selected, then restart Google Chrome.
Congratulations!
You have successfully enabled JavaScript in Google Chrome!
If you have problems when trying these instructions, or if you have other questions, please contact the Information Technology Helpdesk at 229-245-4357 or send an e-mail to helpdesk@valdosta.edu. Please note that our work request system can only accept emails sent from a VSU email address.
Contact

  229-245-4357


  229-245-4349

Campus Address
Odum Library 2nd Floor (Next to Circulation Desk)
1500 N. Patterson St.
Valdosta, GA 31698
Mailing Address
1500 N. Patterson St.
Valdosta, GA 31698