Contact

  229-245-4357


  229-245-4349

Campus Address
Odum Library 2nd Floor (Next to Circulation Desk)
1500 N. Patterson St.
Valdosta, GA 31698
Mailing Address
1500 N. Patterson St.
Valdosta, GA 31698
Contact

  229-245-4357


  229-245-4349

Campus Address
Odum Library 2nd Floor (Next to Circulation Desk)
1500 N. Patterson St.
Valdosta, GA 31698
Mailing Address
1500 N. Patterson St.
Valdosta, GA 31698
Setting Up a Pop-Up Blocker Exception List in Firefox
Step 1:
Click on Tools.
Then click on Options.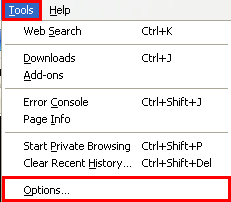 Step 2:
Click on Content.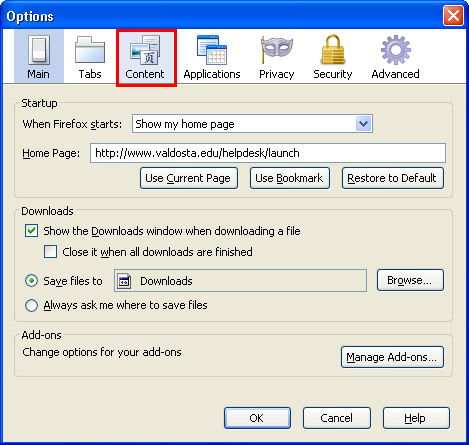 Step 3:
Click on Exceptions... across from Block pop-up windows.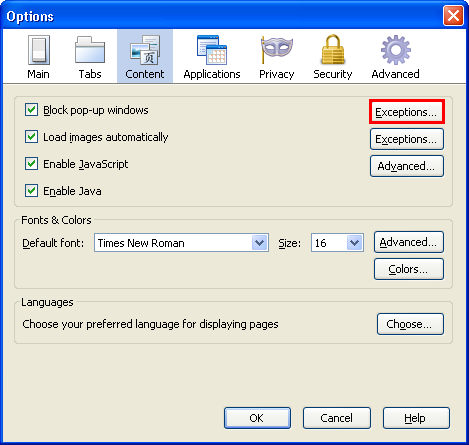 Step 4:
Type in the Address of the website you want to make an exception for. Then click Allow.
After the address has been added to the list, click Close.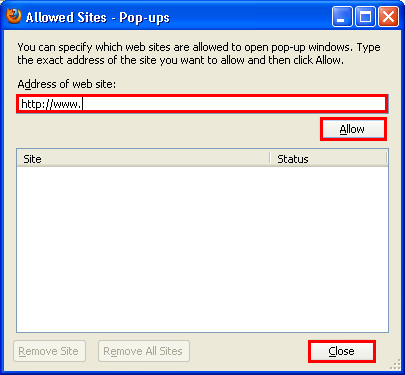 Step 5:
Click OK.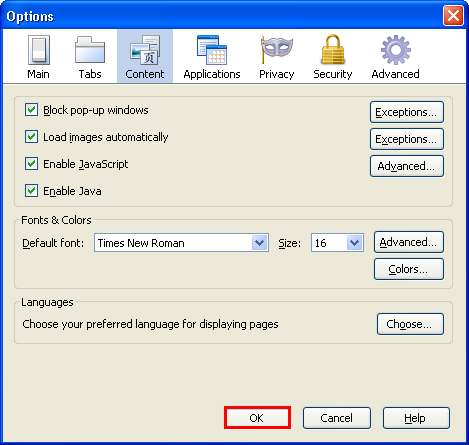 Congratulations!
You have successfully set up a pop-up blocker exception list in Mozilla Firefox! If you have an questions or concerns, please contact the Helpdesk at helpdesk@valdosta.edu or 229-245-HELP (4357). Please note that our work request system can only accept emails sent from a VSU email address.
Contact

  229-245-4357


  229-245-4349

Campus Address
Odum Library 2nd Floor (Next to Circulation Desk)
1500 N. Patterson St.
Valdosta, GA 31698
Mailing Address
1500 N. Patterson St.
Valdosta, GA 31698