Office Users
If you are an employee of Valdosta State University (including student employees and graduate assistants), you will be using Active Directory to:
Log into computers in the office where you work
Log into computers in a classroom or computer lab when needed
Store files in your My Documents folder
Access files and printers shared by your department
In order to get started using Active Directory, please follow the guides listed below:
1. Create an Active Directory Account
In order to access the features of Active Directory, you will need to begin by create your account. In order to do so, you will need to know your BlazeVIEW username and password.
Your BlazeVIEW username is the first part of your VSU e-mail address. Thus, if your e-mail address was janbrady@valdosta.edu, your username would be janbrady.
If you never used BlazeVIEW account or have forgotten your BlazeVIEW password, you can set a new password using our Self-Service Password Reset Tool.
2. Accessing Your Account from an Office Computer
Now that you have created your account, you can log into your account on an office computer.
While you are logged into your account, you will have access to the following features:

Synchronizing Files: Store and retrieve files from a My Documents folder that travels with you as you log into different campus computers. *
Share or Access Shared Documents: Access documents shared between employees in your department.Instructors can also place documents in a folder for students to access from any campus computer lab. *
Install Deployed Software: Install new software that has been distributed to your office computer by Information Technology.
Install System Updates: Install updates for the software already installed on your office computer. Change Your Password Change your Active Directory account password. *
Change Your Employee Information: Change your contact telephone number or reported job title. *
Review my System Information: Retrieve system information to provide to an Information Technology technician. *
* Features marked with an asterisk (*) can also be accessed from a classroom or computer lab.
3. Accessing Your Account from a Classroom or Computer Lab
If you leave yourself logged into your account on a computer, another user can access features in the list above using your account. Thus, it is important to log out of your account when you leave a computer. This is especially important to remember if you are:
Sharing a computer with another employee
Logging into a classroom or lab computer with your account
If another user has left a lab or classroom computer without logging out of his or her account, the computer may lock itself to prevent unauthorized access to the account. When this occurs, you will see a window similar to the one listed below. If you need to use the computer, you can use the following steps to unlock the computer and log the prior user out of his or her account.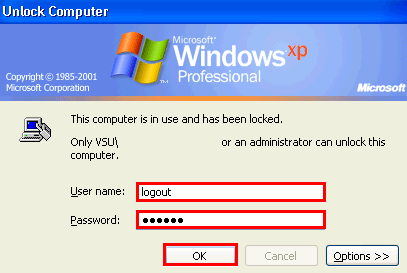 Enter logout into the Use name field.
Enter logout into the Password field.
Click the OK button.
4. Resetting your Password
If you forget your Active Directory password, please use our Self-Service Password Reset Tool to set a new password. If you encounter issues while using this tool, please contact the Information Technology Helpdesk at 229-245-4357 or send an e-mail to helpdesk@valdosta.edu.
Please note that our work request system can only accept emails sent from a VSU email address.