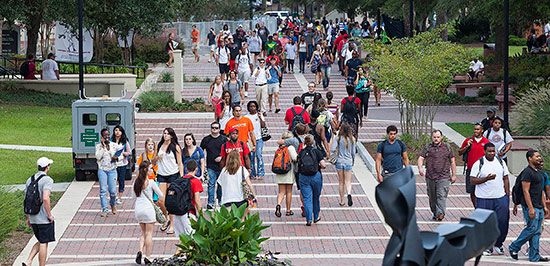 Week of Welcome 2014
Welcome to Valdosta State University!
Monday, August 11th
CPC Recruitment Kickoff- 4pm-8pm Union Ballrooms
 Join the six Panhellenic sororities in Value-based recruitment that begins August 11th. For more information about this event, visit their website here!
Tuesday, August 12th
Move in begins for incoming first year students
Trivia Night- 7pm Union Ballrooms
Come out to the Union Ballrooms where you will have fun night of Trivia and meet other students! 
Wednesday, August 13th
Move in continues for incoming freshmen
Getting to know you s'more- 6pm GA Courtyard
Thursday, August 14th
New Student Convocation 9am-11am in the PE complex
        
Arel Moodie will be our keynote speaker to this event.  Mr. Moodie is a best-selling author of Your Starting Point for Student Success and is known all over as America's Top Young Speaker.  He has partnered with The White House to host events that involved the country's top young leaders. The New York Times & USA Today also has recognized him a Top Generation Y Entrepreneur. He has spoken to over 150,000 students in 44 states and 5 countries. Please join us for this New Student Convocation! 
Exploring diverse backgrounds- 3pm-PM Powell Hall Aud. 
Late night pancakes- 8pm Palms Quad
Sponsored by RHA/CAB, this event will be held in the Palms Quad and gives students a chance to meet other students! 
Friday, August 15th
Returning students move in
College meetings-9am-11am. Find your meeting location. 
Saturday, August 16th
Volunteer Valdosta- 9am Union Rotunda
Are you interested in becoming a volunteer? There are many opportunities through Volunteer Services. Attend this event and find out more information about how you can become a volunteer, or visit the Volunteer Services webiste here. 
Movie on the lawn- Dark- GA Hall Lawn
Come on out ot he GA Hall Lawn where a movie will shown after dark! Sponsored by CAB, the movie will give you a chance to meet other students and relax before classes start on August 18th.
Sunday, August 17th
Find your classroom, 3pm-5pm Academic Building
This event is held so that students can explore the academic buildings that they are scheduled to have classes in for the fall semester. Volunteers will be stationed at each building to assist students in finding their classrooms within the buildings. 
For more details on Fall Explosion visit the website here.
Events Beyond Week of Welcome
The Happening is a great way to see what VSU's student groups are, as well as see what the local buisnesses and organizations are here in Valdosta. 
Parents Weekend
September 5th-6th
Parents weekend is a great way for parents to visit campus, and spend time with their student, as well as meet other families.  Parents receive lunch, as well as have the opportunity to purchase football tickets for the Saturday night game.  A full list of events as well as more information for the weekend are located here on the Homecoming website. Don't forget to register!
Homecoming 2014
October 20th-25th
Homecoming consists of a week of activities leading up to our home football game on Saturday, October 25th! Check out the Homecoming website for a link to the list of activities available this week!