Successful Student
Hank Day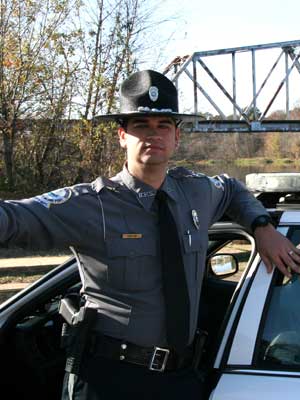 Hank is from Bainbridge, GA and majored in Criminal Justice. Hank graduated from Valdosta State University (VSU) in Spring, 2013. The Center for eLearning recently asked Hank a few questions regarding his experience with a VSU online program.  Here are excerpts from the conversation:
Why did you choose to pursue your degree at VSU?
I chose VSU because of its fully-online criminal justice program. I was up in the air between two schools. After I realized the commitment and attention I was receiving from the VSU staff, my decision was easy. I quickly chose VSU for my college path.
When you were considering programs, why did you choose an online degree rather than a traditional face-to-face program?
I am a full-time husband, police officer and firefighter. A traditional face-to-face college path would have been impossible for me to complete. When I heard about VSU's online criminal justice program I knew it would be a perfect fit.
As a student, what benefits/advantages did the online format offer you?
There are many advantages to an online class format. The most crucial advantage would be that I could plan and work on the class material on my own time. The classes are completely laid out in advance and I can plan ahead for what needs to be done each week. 
In your opinion, how will your degree benefit you now that you have graduated?
My degree in criminal justice has and will continue to help me better understand the aspects of criminology, the police culture and other major components of the criminal justice system. I feel I have learned a great deal that pertains to my everyday duties. This degree has made my daily tours of duty easier and more meaningful.
If you were talking to a prospective student, what you you tell him/her about your faculty instructors?
I would tell a prospective student that VSU is the best place for them to get what they are looking for. Teachers that understand, advisors and guidance that know exactly what they are doing is what you will find at VSU. Plus, the benefits of completing the program are worth the hard work and sacrifice. 
What was your overall experience like in the program?
VSU's online criminal justice program fit my every need. I completed a Bachelor's degree while working full-time. I feel that without the help, guidance and advisory of the entire VSU staff my college experience would have been tough because I was coming into it without knowing what to do or what to expect.
Congratulations Hank and thank you for being an outstanding VSU online student ambassador.