Getting Started with eMajor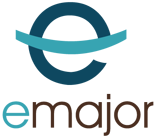 Begin the Admissions process at your home institution.
Have a realistic understanding of eMajor.
Work with your Advisor.
Take the eMajor online introduction quiz.
Login to Banner and register for your classes.
Watch for your Welcome Letter.
Pay your tuition.
Purchase your textbooks.
First Day of Classes:
Login to GoVIEW on the first day of class and make contact with your instructor.
After Class Begins:
Keep up with important deadlines.
Understand the drop/add and withdrawal policy.
Understand the proctored exam and testing policy.