RSCH 3510 Meacham
SOC 3510 - RESEARCH METHODS
http://www.valdosta.edu/library/learn/guides/RSCH3510_Meacham.shtml
This webpage aims to connect you to resources to assist you in your research.
Valdosta State University's Odum Library Homepage
Print Reference Materials
You will find print reference sources in both the main reference collection and the "reference alcove." Please ask the Reference Librarian on duty at the reference desk for assistance in finding materials.
An example of a print reference resource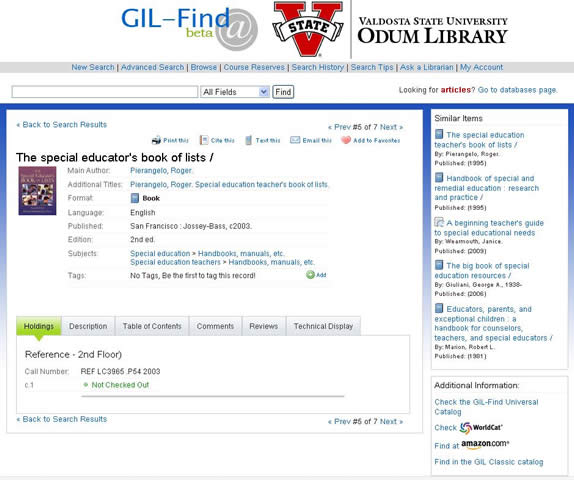 Online Reference Sources
An example of an online reference resource
Finding Databases to search for Scholarly Articles
Go to the library home page.
Click on the Articles tab, if it is not already selected.
Click the arrow for the drop menu located under Articles & Databases by Subject to reach subject pages for VSU majors.
Finding Articles
Use Ulrich's to determine if a journal is refereed (peer reviewed). Look for the referee's shirt! 
If you have a citation, use the black "journals" tab at the Odum Library homepage to search for that title.
Recommended Databases for Sociology
Specific Sociological Databases

SocINDEX with Full Text 

SocINDEX is an EBSCO database that provides access to a multitude of full-text sociology articles.

Sociological Abstracts

For both Sociological and Social Services Abstracts, be sure to check the citation for a "Full Text Linking" link before clicking on the "Find It" button.  The "Find It" button does not recognize links outside of the database to full text.

Sociological Collection 

Sociological Collection is a ProQuest sociology database with full-text articles.

Social Science Research Network

SSRN is an open-access database that provides abstracts for Social Sciences eJournals that cover over 400 different Social Sciences subject areas.
Dissertations & Theses
Government Documents
Publications of the federal government can be excellent primary sources. The following search engines may be useful:
USA.gov Search engine for U.S. and state government web sites. Go to "Find Government Agencies" to locate the U.S. Dept. of Education
Census Data: American Factfinder
Help with getting articles full-text or in print
Using the Find It Button (video guide to accessing articles from database searches)
Quiz
Please click the question mark (below) to enter the Quiz.