Contact

Circulation


  229-333-5869

Reference Services


  229-333-7149

Administrative Office


  229-333-5860

Main Fax


  229-259-5055

Campus Address
1500 N. Patterson St. Valdosta, Georgia 31698
Mailing Address
1500 N. Patterson St.
Valdosta, GA 31698
Contact Us
Contact

Circulation


  229-333-5869

Reference Services


  229-333-7149

Administrative Office


  229-333-5860

Main Fax


  229-259-5055

Campus Address
1500 N. Patterson St. Valdosta, Georgia 31698
Mailing Address
1500 N. Patterson St.
Valdosta, GA 31698
Contact Us
Searching for News Resources
The following quick tutorial will help you find news articles for your research project.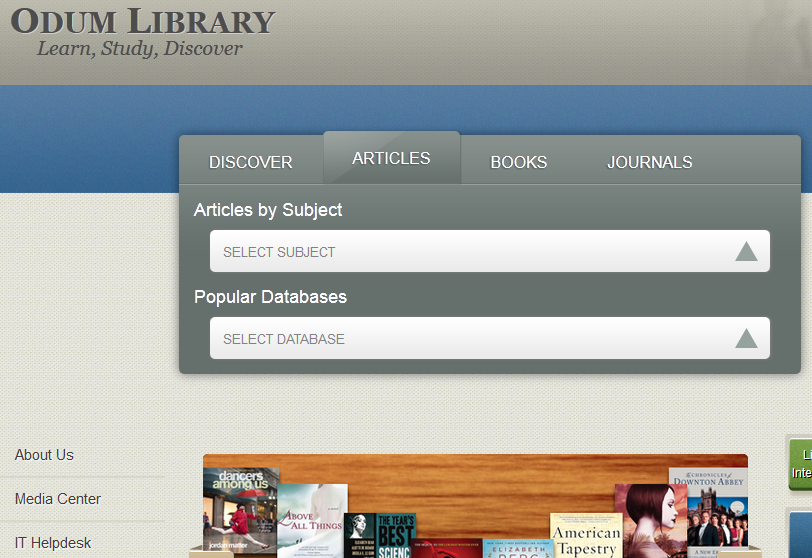 To find a news article for your research topic, start at the Library Homepage. Click on Articles, then on Select Subject, and then select News Resources from the menu.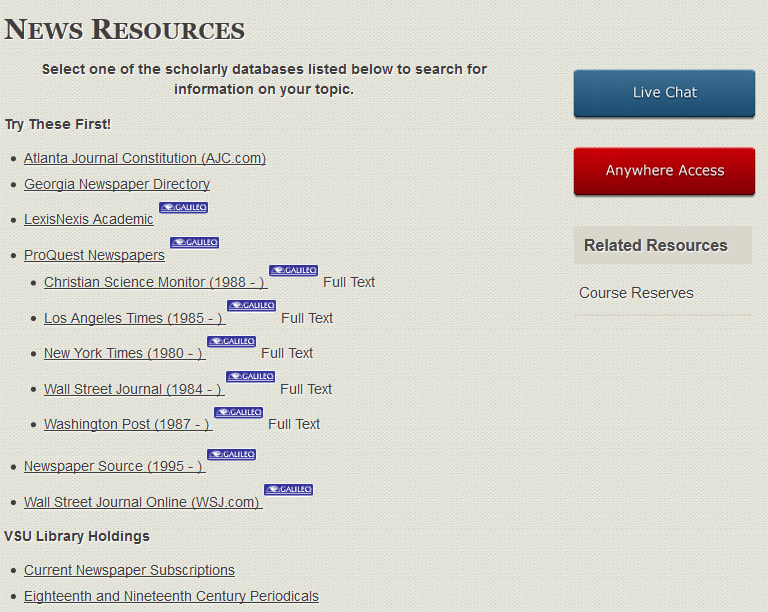 The News Resources page is a list of Odum Library's recommended news sources.  An example of a great news resource is the ProQuest Newspapers database, where you can select an individual newspaper like the New York Times, or the Historical Newspapers, further down on the page, where issues of newspapers like the New York Times or Washington Post go further back, as far as the 1800's.

In this example, New York Times has been selected, and a student is searching for a story about an airplane landing in the Hudson River.  For tips on how to search through particular databases, check out our EBSCOhost and ProQuest guides, or check the Help files within each database.
Contact

Circulation


  229-333-5869

Reference Services


  229-333-7149

Administrative Office


  229-333-5860

Main Fax


  229-259-5055

Campus Address
1500 N. Patterson St. Valdosta, Georgia 31698
Mailing Address
1500 N. Patterson St.
Valdosta, GA 31698
Contact Us