Searching in the GIL-Find Catalog
GIL-Find is an easy-to-use interface for VSU's online catalog.  This catalog is made up of descriptive records of all the materials available at Odum Library.  These materials include books, videos, musical scores, government documents, and print journals.  Each GIL-Find record represents one item and provides detailed information about the record, such as the author, title, subject headings, and the call number for the item.  GIL-Find is available online and no password is needed to search Odum Library's catalog.
Accessing GIL-Find
A simple search option is available from Odum Library's homepage, http://www.valdosta.edu/academics/library/ under the Books tab.  To search in the Classic GIL Catalog click on the GIL-FIND@VSU catalog link, then click on the Classic GIL Search button in the upper right-hand corner.
.
Basic Search
Quick Search provides limited options for searching .  It works best of simple one or two word searches involving unusual terms. If you were searching for books written by Kurt Vonnegut, type in the author's name vonnegut and hit enter..
The Quick Search option should be used only for basic searches. If you need to conduct a more specific or narrowed search, use the advanced search options like Boolean operators, wildcard and phrase searching.  To access these other search options, click the GIL-Find@VSU Library Catalog link.
Advanced Search
GIL-Find provides advanced search options to help you search for specific items.
For advanced searches: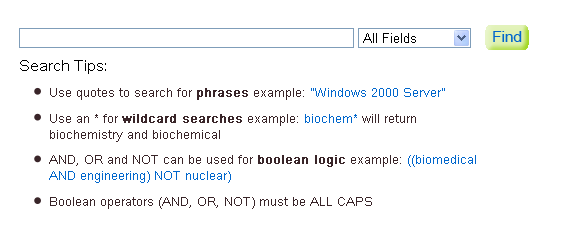 So a search for African American writers would be written:
"African American" AND writer*
Left click on the Find button.
Results will be sorted by Relevance.
Left click a title to view that item's record.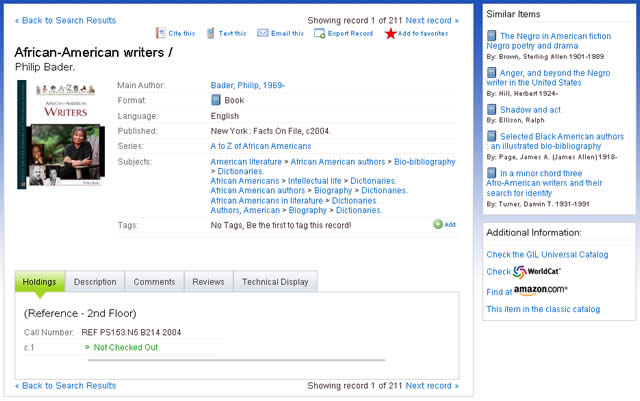 The Subjects section is a list of the official Library of Congress Subject Headings (LCSH) that has been assigned to a particular record.  If you wanted to find more records related to one of these subject headings, left click on one of the LCSH 
For the Subject Heading African American authors –Biography –Dictionaries, left click on the word Dictionaries.  You will see a list of the 14 titles available on this subject.
Exact Search
If you know the exact title of a book, journal, or video you are searching for in the GIL-Find catalog, you can select to only search in that Field.      
Similarly, you can search by field for a specific:
Title,
Title or Subject,
Journal Title,
Author,
Subject,
Call Number
Sudoc Number (Government Documents)
ISBN/ISSN, or
Tag (user provided).
So, for example, we can search for the journal African American Review, by typing in the name of the journal and selecting Journal Title from the Fields drop-down menu.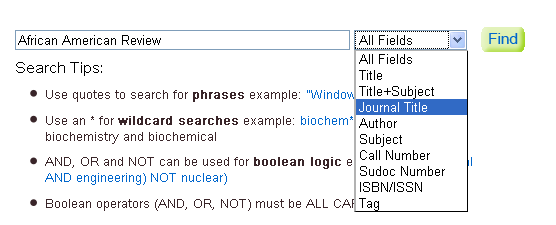 There are two African American Review journal titles available at Odum Library.
If you want to view more details about one of these records, left click on the Journal Title
Course Reserve
From GIL-Find, you can find a link to Course Reserves above the search bar.  This will take you to the Course Reserves interface in the Classic GIL Catalog.

Next, select the name of the instructor you are searching for course reserve materials from.  For this example select Bell, Lynn 
Left click on GO or press the enter key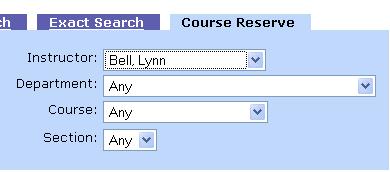 Lynn Bell has several items on reserve for students to read.  Below is a list of some of these items: