Career Resources
This webpage connects you to resources to assist you in your research.
Developing a Search Statement
Suggested Subject Headings
careers
occupations
vocational guidance
e.g. criminal justice and career
Print Reference Materials
Print Reference Sources
You will find print reference sources in both the main reference collection and the "reference alcove." Please ask the Reference Librarian on duty at the reference desk for assistance in finding materials.
An example of a print reference resource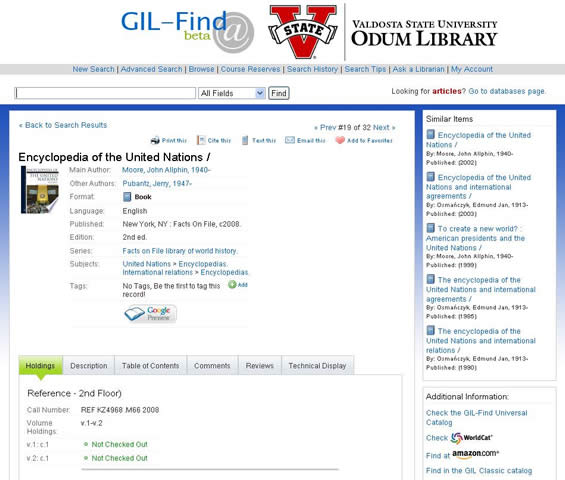 A good place to start your research is with reference books. A few are listed below:
Online Reference Sources
An example of an online reference resource (Gale Virtual Reference Library)
Databases for Articles
Finding Databases for Scholarly Articles
Go to the library home page.
Click on the Articles tab, if it is not already selected.
Click the arrow for the drop menu located under Articles & Databases by Subject to reach subject pages for VSU majors.
Recommended Databases for Articles
NOTE: You will need to login through Anywhere Access or know the GALILEO password if you are off campus.
Interlibrary Loan (ILL)
Using Interlibrary Loan
Interlibrary Loan allows you to request articles, books, and other materials from other libraries.  You can use ILLiad, our online interlibrary loan system, to get articles in 2-5 days, or books in 2 weeks. 
Other Helpful Resources
MLA Style
Resources
Avoiding Plagiarism