June 11, 2014
14-204
Thressea Boyd
Director of Communications
VSU and Central Georgia Technical College Sign Pathways Program Agreement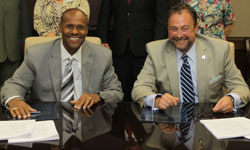 Macon, GA—Central Georgia Technical College (CGTC) and Valdosta State University (VSU) signed a Pathways Program agreement on Tuesday, June 10, during a ceremony at CGTC's Macon campus. Through the agreement, CGTC students who successfully earn an Associate of Applied Science or Associate of Applied Technology degree are eligible to work toward a Bachelor of Applied Science in human capital performance or Bachelor of Science in organizational leadership at VSU.
"This new articulation agreement with Valdosta State University will greatly benefit our students," said Dr. Ivan H. Allen, president of CGTC. "At CGTC, our primary focus is our students and how we can assist them with finding success in the workforce in order to support their families and the local economy as a tax payer. We are maintaining this focus by working to offer our students greater opportunities to advance their education after graduation. We are pleased to have VSU as a partner in this process."
The Pathways Program centers on the priorities of Complete College Georgia (CCG), an initiative developed to increase the number of Georgians earning a college degree. In 2012, institutions in both the Technical College System of Georgia (TCSG) and the University System of Georgia (USG) submitted plans to achieve the ambitious goal of adding more than 250,000 postsecondary graduates to Georgia's workforce by 2020. 
"Valdosta State is pleased to develop a partnership with Central Georgia Technical College and look forward to expanding the opportunity for more students to complete their college degree," said VSU President William J. McKinney. "This partnership represents an important piece of Valdosta State's commitment to Gov. Nathan Deal's Complete College Georgia initiative. It is these types of collaborative relationships that will assist more students in earning the credentials they desire, and helping to create a more highly educated and prepared workforce throughout Georgia."
Central Georgia Technical College offers more than 200 degree, diploma and certificate options that can be completed in two years or less. Courses are offered at three campuses, Warner Robins, Macon, and Milledgeville, and four centers throughout the 11-county service area. For more information, visit www.centralgatech.edu or call 478.988.6800.
About Valdosta State University
Valdosta State University is one of the University System of Georgia's four comprehensive universities. Accredited by the Southern Association of Colleges and Schools (SACS), VSU draws students from 50 states and more than 67 foreign countries. With an enrollment of approximately 11,800 undergraduate and graduate students, VSU undergraduate students have met the highest admissions standards in the history of the university and are entering and progressing at higher rates than ever before. VSU students have many options of course instruction, including traditional classroom and online delivery, along with study abroad opportunities and internships that provide a broader set of skills and knowledge. For more information, visit www.valdosta.edu. 
About Central Georgia Technical College
Central Georgia Technical College is a unit of the Technical College System of Georgia serving 11 counties in the middle Georgia area by offering quality workforce education programs, adult education/GED® services, and economic development and continuing education programs. CGTC is accredited by the Southern Association of Colleges and Schools (SACS) and offers students an attainable and affordable, quality education that helps them gain the skills they need to successfully enter the workforce within a brief period of time. Students at CGTC also have access to career placement services, extra-curricular activities, and financial aid, including the HOPE Grant and HOPE Scholarship. For more information, log on to www.centralgatech.edu.