January 23, 2014
14-16
Jessica Pope
Communications Specialist
Study Abroad Fair Encourages VSU Students to Explore the World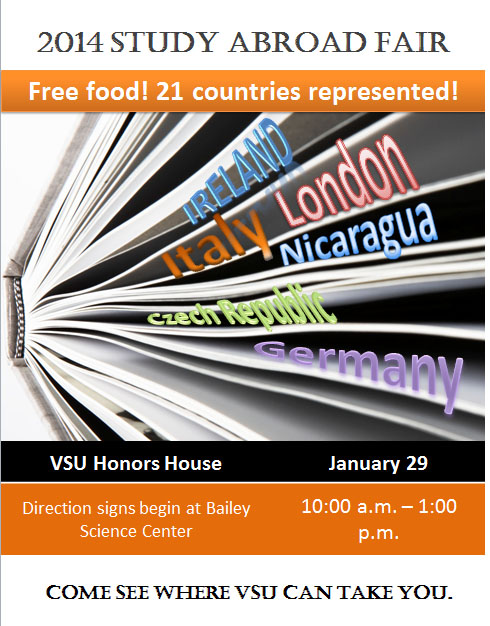 VALDOSTA — The Center for International Programs and Honors College are joining forces to host the spring 2014 Valdosta State University Study Abroad Fair from 10 a.m. to 1 p.m. on Wednesday, Jan. 29, at the Honors House.
Interested students are encouraged to stop by and discover how they can travel the world while taking classes and moving one step closer to earning their degree. 
"At the moment, we have about 190 students signed up to go abroad in the summer, but a few programs still have openings," Irina B. McClellan, Study Abroad Program coordinator and assistant director of the Center for International Programs at VSU, shared. "This will be the last chance for VSU students to sign up for summer study abroad programs and make their decisions."
More than 20 countries will be represented, she added, and participating students will have the chance to meet with previous VSU Study Abroad Program participants and faculty.
The Study Abroad Fair will feature information about summer, semester-long, and yearlong exchange programs available to VSU students. Financial aid can be applied to approved programs, and students do not have to be fluent in a foreign language to participate.
Programs are available in almost every field of study. McClellan said that students can take courses in everything from business, history, and political science to art and foreign language to geography, psychology, biology, and more as they explore the world around them.
"Study abroad is an investment into the acquisition of global skills, broadening horizons and strengthening the competitive edge of the students for the labor market," said Dr. Ivan Nikolov, director of VSU's Center for International Programs and professor of educational leadership.
Contact Irina B. McClellan at (229) 333-7410 or ibmcclel@valdosta.edu to learn more.
On the Web:
Note: Dr. William J. McKinney, VSU president, is scheduled to attend the event. At 11 a.m. he will draw two winning raffle tickets for $1,000 and $500 worth of air travel from Fellowship Travel International, which provides travel services for most of the VSU and European Council study abroad programs. Students were given the chance to sell tickets — $2 for one ticket or $20 for 20 tickets — to raise funds to help cover the cost of studying abroad. More than 10,000 tickets were sold.