Contact

General VSU Information


  229-333-5800

Office of Communications


  229-333-2163


  229-333-2157


  229-333-5983

Campus Address
Office of Communications, 1120 Powell Hall
Mailing Address
1500 N. Patterson St.
Valdosta, GA 31698
Contact Us
Contact

General VSU Information


  229-333-5800

Office of Communications


  229-333-2163


  229-333-2157


  229-333-5983

Campus Address
Office of Communications, 1120 Powell Hall
Mailing Address
1500 N. Patterson St.
Valdosta, GA 31698
Contact Us
December 10, 2013
13-354
Thressea Boyd
Director of Communications
University Counseling Center receives national accreditation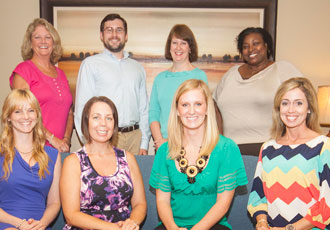 VALDOSTA--After completing a rigorous assessment and accreditation process, Valdosta State University's Counseling Center has received re-accreditation by the International Association of Counseling Services, Inc. (IACS). 
According to IACS, the VSU Counseling Center was evaluated "against the highest standards of counseling practice and was found to offer competent and reliable professional services to its clientele." 
IACS develops standards of practice through its Board of Accreditation, the members of which are directors of counseling services throughout the United States and internationally.  
"The re-accreditation proves that VSU's Counseling Center exemplifies great professionalism, exemplary counseling services, and meets the highest standards established in the field," said Dr. Leah McMillan, interim director of VSU's Counseling Center. "The on-site IACS reviewer was complimentary of all the functions of the Counseling Center. He was especially complimentary of the range and quality of services offered by the center."  
The re-accreditation process involved a review of how the Counseling Center supported the mission of the university, along with a detailed review of how the center provides its core services, including individual and group counseling, crisis intervention and emergency services, outreach, consultation, research, program evaluation, and professional development and training.  
The VSU Counseling Center staff consists of six full-time counselors, a part-time consulting psychiatrist, three part-time clinical practicum students, and two administrative staff members.  
According to McMillan the Counseling Center provides a broad range of mental health services to the university community with the goal of maximizing the personal growth and development of its members. These serves are primarily offered to students and include a wide variety of preventive, remedial, educational, and crisis management activities.  
VSU's Counseling Center, one of five counseling centers accredited by IACS within the University System of Georgia, was first accredited by the IACS in 2000.
Contact

General VSU Information


  229-333-5800

Office of Communications


  229-333-2163


  229-333-2157


  229-333-5983

Campus Address
Office of Communications, 1120 Powell Hall
Mailing Address
1500 N. Patterson St.
Valdosta, GA 31698
Contact Us