Contact

General VSU Information


  229-333-5800

Office of Communications


  229-333-2163


  229-333-2157


  229-333-5983

Campus Address
Office of Communications, 1120 Powell Hall
Mailing Address
1500 N. Patterson St.
Valdosta, GA 31698
Contact Us
Contact

General VSU Information


  229-333-5800

Office of Communications


  229-333-2163


  229-333-2157


  229-333-5983

Campus Address
Office of Communications, 1120 Powell Hall
Mailing Address
1500 N. Patterson St.
Valdosta, GA 31698
Contact Us
October 10, 2013
13-291
Malynda Dorsey
Communications Specialist
Hispanic Heritage Month Formal to be Held Saturday, Oct. 12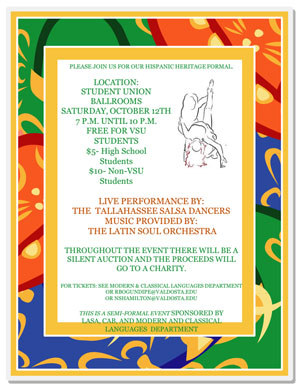 VALDOSTA – Valdosta State University continues its celebration of National Hispanic Heritage Month with a formal, which will be held at the Student Union Ballroom Saturday, Oct. 12 from 7 to 10 p.m.
Hosted by the Latin American Student Association (LASA), in conjunction with the Campus Activity Board and Department of Modern and Classical Languages, the event features live music from the Latin Soul Orchestra as well as performances by the Tallahassee Salsa Dancers. The formal is open to VSU students, $5 for high school students and $10 for the public.
"The LASA members are so excited about this dance," said Dr. Michelle Forbes, assistant professor of Spanish and Teaching English as a Second Language and LASA advisor. "We have a salsa dance every year around this time. The is first time we are doing it big with the Latin Soul Orchestra and professional dancers from Tallahassee."
VSU will continue its celebration of Hispanic Heritage Month with The 1, 2, 3s of Salsa Making, which will be held at the Turner Center for the Arts from 5 to 7 p.m. Friday, Oct. 18. This interactive food demonstration includes dishes by Dr. Adolfo Carrillo Cabello, assistant professor of Spanish at VSU.
From 7 to 8:30 p.m. Wednesday, Oct. 23, the Department of Modern and Classical Languages will host an open forum about the congressional DREAM (Development, Relief and Education for Alien Minors) Act, which will include Jerry Gonzalez, executive director of the Georgia Association of Latino Elected Officials, and Israel Cortez, a VSU graduate who has worked in migrant education in South Georgia for several years.
Observed nationally from Sept. 15 to Oct. 15, Hispanic Heritage Month pays tribute to generations of Hispanic Americans who have made positive contributions to the nation and society, according to HispanicHeritageMonth.gov . The first Hispanic Heritage Month was observed in 1968 and became enacted into law in 1988. The period of celebration includes significant dates such as the anniversary of independence for several Latin American countries, independence day celebrations for Mexico and Chile and Columbus Day. 
Contact

General VSU Information


  229-333-5800

Office of Communications


  229-333-2163


  229-333-2157


  229-333-5983

Campus Address
Office of Communications, 1120 Powell Hall
Mailing Address
1500 N. Patterson St.
Valdosta, GA 31698
Contact Us