June 25, 2013
13-200
Malynda Dorsey
Communications Specialist
VSU Wraps up Computer Science Workshop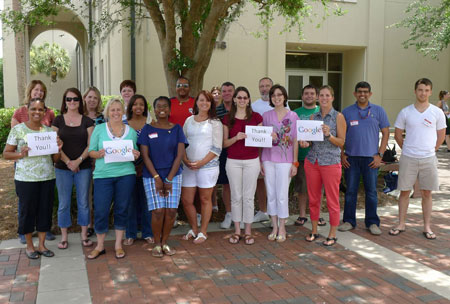 VALDOSTA – Valdosta State University hosted its second Google-funded computer science workshop for area school teachers June 17-20. The workshop, titled Valdosta Computes 2.0, is the only workshop in the state funded through Google as part of its Computer Science for High Schools (CS4HS) program.
This year's workshop included 15 teachers from Berrien, Brooks, Lowndes, Tift, Irwin and Clinch counties whose subject areas ranged from math, technology and engineering to gifted classes and English. Thirteen schools were represented.
"The participation was a big leap from last year's workshop, which included four area teachers," said Dr. Krishnendu Roy, professor of computer science at VSU. "More than 65 teachers applied for the workshop this year. I focused on bringing in teachers from various subject areas when selecting the pool to show how computer science extends across disciplines."
Teachers learned basic concepts in computer science and were provided with several free online resources that they could use to educate students in the classroom. The workshop also included several hands-on activities.
"Everyday the class would begin with computational thinking activities – things that explain computer science concepts without ever touching a computer," said Dr. Krishnendu Roy, professor of computer science at VSU. "The teachers would then explore areas of programming, which included work with robots, Android apps and a software called Scratch."
Roy also provided online tutorials, discussed guidelines for teaching advanced computer science classes and informed teachers of grants they could apply for to enhance their instruction.
If the exit evaluations of the workshop were any indication, all of the teachers enjoyed the workshop and felt like the material covered was new and useful. Many expressed interest in mocking activities in their classrooms and using the tutorials to create more activities for their students. 
Google's CS4HS program provided $12,500 to VSU to fund Valdosta Computes 2.0. Through the CS4HS initiative, funds are provided by the Google Education Group to host two to three day workshops for middle school and high school teachers. Google currently offers CS4HS grants to colleges and universities across the world.
According to a Google blog about the program, the ultimate goals are to "'train the trainer,' develop a thriving community of high school CS teachers, and spread the word about the awe and beauty of computing." The grant was introduced in 2010 with hopes of impacting at least 36,000 students and ensuring they are exposed to the latest computing tools in technology.