Contact

General VSU Information


  229-333-5800

Office of Communications


  229-333-2163


  229-333-5983

Campus Address
Office of Communications Powell Hall West, Suite 1120
Mailing Address
1500 N. Patterson St.
Valdosta, GA 31698
Contact Us
Contact

General VSU Information


  229-333-5800

Office of Communications


  229-333-2163


  229-333-5983

Campus Address
Office of Communications Powell Hall West, Suite 1120
Mailing Address
1500 N. Patterson St.
Valdosta, GA 31698
Contact Us
April 25, 2013
13-147
Sara Lynn McCall, Graduate Assistant
Journalism Student Wins Jim Murray Sports Writing Contest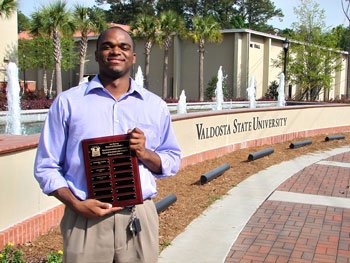 VALDOSTA - Shane Thomas, a junior journalism student, won the Valdosta State University Jim Murray Sports Writing Contest and will go on to compete for a national prize against students from 30 other journalism schools.
The Murray Scholar Scholarship Program, funded by the Jim Murray Memorial Foundation (JMMF), awards five $5000 scholarships annually to outstanding print journalism students, with emphasis on sports journalism, through a nationwide essay competition.
"Winning the contest is huge for me as an aspiring journalist," said Thomas, who was born in Greenville, Miss., but raised in Valdosta. "It's great for me to get my foot in the door with sports writing. Winning the school wide contest is a tremendous honor."
Thomas's winning article focuses on Josh Sparks, a senior basketball player and fan favorite at VSU, and how he enjoys playing poker in the off-season. The article will now compete against the winning entry from 30 of the top journalism schools in the U.S. A team of professional sports journalists will judge the entries for the $5000 prizes and a possible trip to Los Angeles, Calif.
"To be eligible to win nationally is great in itself because it puts my work against the best sports writers in the nation," said Thomas. "To win nationally would be the biggest accomplishment to start my career."
For more information, contact Dr. Ted Geltner, assistant professor of journalism, at tageltner@valdosta.edu or visit jimmurrayfoundation.org. To read Thomas's article, visit vsuspectator.com/2013/04/18/josh-sparks-keeps-on-a-poker-face-senior-standout-player-enjoys-his-off-season.
Contact

General VSU Information


  229-333-5800

Office of Communications


  229-333-2163


  229-333-5983

Campus Address
Office of Communications Powell Hall West, Suite 1120
Mailing Address
1500 N. Patterson St.
Valdosta, GA 31698
Contact Us