Contact

General VSU Information


  229-333-5800

Office of Communications


  229-333-2163


  229-333-2157


  229-333-5983

Campus Address
Office of Communications, 1120 Powell Hall
Mailing Address
1500 N. Patterson St.
Valdosta, GA 31698
Contact Us
Contact

General VSU Information


  229-333-5800

Office of Communications


  229-333-2163


  229-333-2157


  229-333-5983

Campus Address
Office of Communications, 1120 Powell Hall
Mailing Address
1500 N. Patterson St.
Valdosta, GA 31698
Contact Us
January 9, 2013
13-1
Jessica Pope
Communications Specialist
World-Renowned Quartet Returns to VSU for One-Night Performance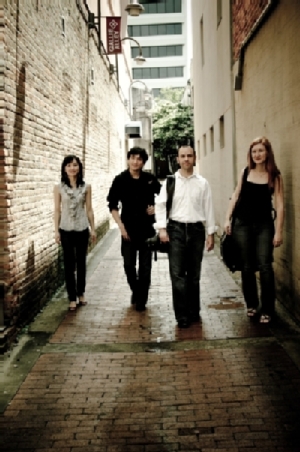 VALDOSTA — Featuring Katherine Geeseman on cello, Wonkak Kim on clarinet, Eun-Hee Park on piano, and Valdosta State University's very own M. Brent Williams on violin, enhake will return to Whitehead Auditorium for a one-night performance at 7:30 p.m. on Saturday, Jan. 12.  
The award-winning, world-renowned quartet will perform Libby Larsen's Rodeo Reina del Cielo, a work both written for and dedicated to enhake; Douglas Knehans' Rive; and Olivier Messiaen's monumental work, Quatuor pour la fin du temps. Messiaen, along with three of his fellow captives, premiered his Quartet for the End of Time on Jan. 15, 1941, inside a Nazi prison camp, Stalag VII-A. Since then it has come to be recognized as one of the most important pieces of music from the 20th century — and one of the most important chamber works of all time, shared Williams.
"Luckily for us, Messiaen's Quartet for the End of Time isn't just famous for the miraculous story regarding its conception," said Williams, who teaches in VSU's Department of Music and serves as principal second violin with the Valdosta Symphony Orchestra, concertmaster of the Albany Symphony Orchestra, and assistant concertmaster of the Tallahassee Symphony Orchestra. "It remains one of those works that can truly transport the listener to a different place, despite having never left the concert hall. This is at least partially due to the fact that the composer 'suffered' from synesthesia."
Messiaen's form of this neurological condition caused him to actually see different colors based on the sounds that he heard, Williams explained, and he composed in a manner not unlike the way a visual artist paints.
"Now, we can't see the same landscapes that he did when his compositions were performed, but what is produced for the audience are sounds unlike that which most people have ever heard," Williams continued. "Because this is such a masterpiece of the chamber music literature, one would assume that it is performed frequently. Sadly, this is not true due to the fact that it is an extremely challenging work for the performers, both technically and musically. As such, you almost have to have a pre-formed group of musicians to tackle the composition, but to complicate matters, it is written for an unusual combination of instruments, clarinet-violin-cello-piano. My group, enhake, is one of the only ensembles in the country that regularly performs together in this setting. All of these reasons contribute to the uniqueness of the event."
Whitehead Auditorium is located on the first floor of the Fine Arts Building, at the intersection of Brookwood Drive and Oak Street.
Visit www.enhake.com or contact Dr. M. Brent Williams at mbwilliams@valdosta.edu to learn more. 
Contact

General VSU Information


  229-333-5800

Office of Communications


  229-333-2163


  229-333-2157


  229-333-5983

Campus Address
Office of Communications, 1120 Powell Hall
Mailing Address
1500 N. Patterson St.
Valdosta, GA 31698
Contact Us