January 10, 2013
13-5
Malynda Dorsey
Communications Specialist
VSU Uses Innovative Technology to Improve Student Success and Retention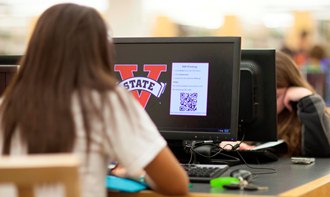 VALDOSTA – Valdosta State University saw improvements in academic performance during the fall 2012 semester following the launch of a multi-phase project that introduced a reporting portal with on-demand access to student class loads and grades. The portal allows faculty to track and ensure student success through interaction with advisors, tutoring services, and other resources.
Since the implementation of the project,  there has been a 10 to 15 percent improvement in midterm and final grades.
"The portal automates and streamlines communication between the faculty and other departments and offices throughout campus," said Brian Haugabrook, director of data warehouse. "If a student has an issue in class, his or her instructor can use the portal to notify the student's advisor, freshman learning community (FLC), housing coordinator or the Student Success Center (SSC) depending on the student's need and provide the student with the necessary assistance. It basically connects all offices at the click of a button."
For Dr. Kathleen Lowney, professor of sociology, the portal was useful in providing "wake-up calls" for students who seemed to have trouble in class.
"I think some students 'heard' my concerns more via the portal than just a comment on a paper or test might have done," said Lowney. "Sometimes students having troubles tend not to show up the day after a test nor log in to BlazeVIEW as often as I would like, so being able to have the portal send them an email about my worries about their grade was very useful. Since the portal also triggered a friendly email from Terence Sullivan at the SSC, I think the 'I am concerned' email from me (portal) and then the follow-up from Terence encouraging the student to come to the SSC is a good pairing. It gives the students options – come see me or go to the SSC– but the student is not alone."
Lowney added that the portal allows her to reach out to other faculty members who share a student.
"Since students knew that some level of information would be shared between faculty, most saw it as a good thing when I would ask how a chemistry test went or how an assignment for their VSU 1101 course was going," Lowney said. "I think that this generation of student sees frequent contacts by us to be a good thing and the portal allows us to help them see realistically how they are doing in any one class and intervene while it still is possible to change the outcome. I will definitely keep using it."
Through the system, student performance can be tracked from recruitment to graduation.
"With this set in place, there are constant measures to make sure we remain proactive in our retention efforts – pinpointing issues with our students as early as possible so we can correct them," said Haugabrook.
In 2012, Gov. Nathan Deal announced a Complete College Georgia initiative designed to increase the number of Georgians earning a degree.
Valdosta State's Complete College Georgia plan includes the use of information technology tools for early intervention of students who are academically at risk.
"This innovative use of advanced data analytics underscores Valdosta State's commitment to student success and to the promise of Complete College Georgia," said VSU President William J. McKinney.
This innovative use of advanced data analytics underscores Valdosta State's commitment to student success...@wjmckinney
The next phase of the project includes a portal for students that will allow them to track their grades; communicate with faculty members, advisors, and various offices on campus; and access financial resources.
"This data system is essential to enrollment management and the success and completion of our students," said Andy Clark, associate vice president for enrollment management. "The system put tools for success in the hands of the faculty."
Those involved in the implementation of the multi-phase project include Haugabrook; Clark; Keisha Roberts, programmer analyst specialist; David Pulliam, programmer analyst associate; Barrie Fitzgerald, institutional research analyst; and Miguel Tonido, database services specialist.