Contact

General VSU Information


  229-333-5800

Office of Communications


  229-333-7177


  229-333-2163


  229-333-2157

Campus Address
Office of Communication, 1120 Powell Hall
Mailing Address
1500 N. Patterson St.
Valdosta, GA 31698
Contact Us
Contact

General VSU Information


  229-333-5800

Office of Communications


  229-333-7177


  229-333-2163


  229-333-2157

Campus Address
Office of Communication, 1120 Powell Hall
Mailing Address
1500 N. Patterson St.
Valdosta, GA 31698
Contact Us
January 10, 2013
13-3
Sara Lynn McCall, Graduate Assistant
Valdosta State University's DPA and MPA Students Publish Environmental Book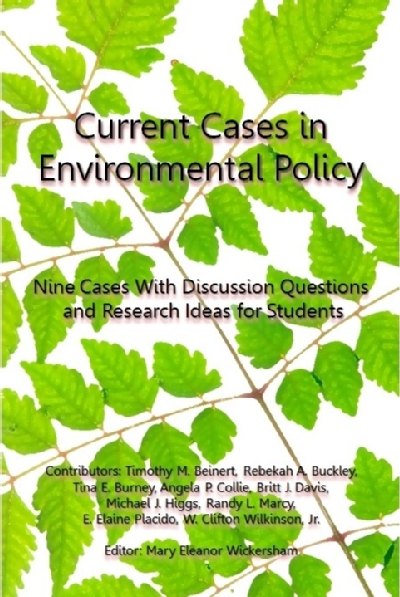 VALDOSTA – Valdosta State University's Doctor Of Public Administration (DPA) and Master of Public Administration (MPA) students have written a newly published book, Current Cases in Environmental Policy. The book contains nine fascinating environmental policy cases from all over the United States.
In the spring of 2012, Dr. Mary Eleanor Wickersham taught a group of students in a public administration environmental policy class. Among their assignments was to prepare a case study of a current environmental issue that involved competing claims and interests from various stakeholders.
"I was so impressed with the papers that I asked about interest in pulling some of the cases together into a book that might be useful for college classes," said Wickersham. "Nine students worked with me on editing their work and adding analysis and discussion questions to make the book more appropriate for students. I think this book speaks for the quality of students we have in the DPA and MPA programs and for the expertise these students demonstrate in their professional lives outside of academia."
The book was published in December 2012. The book is in an environmentally friendly e-reader format that can be purchased for $9.99. The book is available through Amazon at http://www.amazon.com/dp/Bh00AN62D42.
The environmentally friendly format and low cost make this an ideal reader to pair with a course textbook for classes in environmental policy. Each case includes questions for discussion and ideas for further research intended to provoke thought and balance the opinions of the writers.
For more information about the book, contact Wickersham at mrwickersham@valdosta.edu or the Department of Public Administration at 229-293-6058.
Contact

General VSU Information


  229-333-5800

Office of Communications


  229-333-7177


  229-333-2163


  229-333-2157

Campus Address
Office of Communication, 1120 Powell Hall
Mailing Address
1500 N. Patterson St.
Valdosta, GA 31698
Contact Us